Wayne Hennessey was found to have displayed a "lamentable" lack of knowledge about Adolf Hitler and fascism by the Football Association commission which cleared him of making a Nazi salute at a Crystal Palace team-bonding meal in January.
The Wales goalkeeper, who had been photographed with his right arm raised and his left hand held across his mouth, said he had been attempting to attract the attention of the photographer, a French waiter called Jordan Bussolini, and told the three-man panel that he did not know what a Nazi salute was. An FA charge was found not proven after two members of the commission concluded the photograph, posted by the Germany midfielder Max Meyer on social media, had been misinterpreted.
Hennessey was still advised to "familiarise himself with events which continue to have a great significance to those who live in a free country" in the written reasons, published by the regulatory commission on Tuesday. The panel held a full day's hearing this month to scrutinise the incident, which occurred at the Bagatelle restaurant in Mayfair after Palace's FA Cup third-round win over Grimsby on 5 January.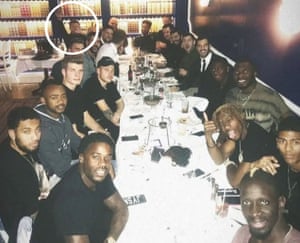 The club had already conducted an internal inquiry and accepted Hennessey's explanation, that he was "making an innocent gesture to attract the attention of the photographer" in a loud, busy restaurant. Bussolini had apparently been asked to take a number of photos on various smartphones, holding the camera above his head and, at one point, standing on a chair to capture the whole table of Palace players.
The commission was told there was no CCTV footage but heard witness statements in person from Hennessey and the waiter, and from Connor Wickham – whom the Wales international, who had not been drinking, had later driven home – Meyer and Palace's player liaison officer Danny Young, who had been at the goalkeeper's side, via video link. Statements in support of the 32-year-old were submitted by Andros Townsend, Roy Hodgson, James McArthur, Julián Speroni, Martin Kelly and Wilfried Zaha, with Hennessey stressing from the outset that he was unaware of what a Nazi salute actually was.
"Improbable as that may seem to those of us of an older generation, we do not reject that assertion as untrue," noted the panel. "In fact, when cross-examined about this, Mr Hennessey displayed a very considerable – one might even say lamentable – degree of ignorance about anything to do with Hitler, fascism and the Nazi regime.
"Regrettable though it may be that anyone should be unaware of so important a part of our own and world history, we do not feel we should therefore find he was not telling the truth about this. All we would say (at the risk of sounding patronising) is that Mr Hennessey would be well advised to familiarise himself with events which continue to have great significance to those who live in a free country."
The panel was pointed towards other photographs from the evening, shared by the players on a WhatsApp group, which showed Hennessey's arm "raised in slightly different but comparable postures". The player, who had claimed he had been "waving and shouted at the person taking the picture to get on with it" and "put my hand over my mouth to make the sound carry", also submitted images of him making similar gestures during matches to attract the attention of teammates. Those included one he had shared on Instagram.
The third member of the commission had argued the "only plausible explanation" was that Hennessey was giving a Heil Hitler salute, but the panel's finding was on a majority rather than unanimous decision. "Whatever may have been Mr Hennessey's unfamiliarity with important parts of 20th-century history and events of continuing and fundamental significance," the report concluded, "he is nevertheless a good person with no tendency to discriminate or to do or say offensive and inappropriate things."