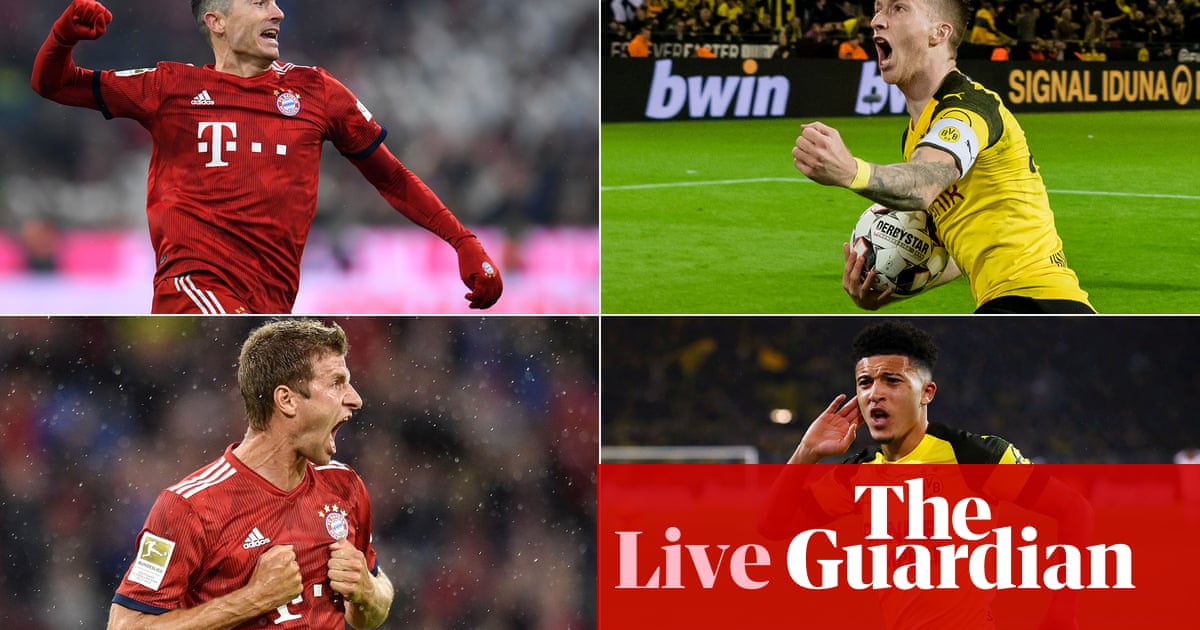 Maybe the masterplan is for Goetze to come off the bench and make the difference. He's settled right back in after a sticky start to his return from Bayern a couple of years back, as Marcus Christenson writes here.
No colossal surprises with that Bayern team: Javi Martinez comes in to provide a little more ballast in midfield ahead of Leon Goretzka, while Serge Gnabry replaces James Rodriguez. What is more surprising is Mario Goetze on the bench for Dortmund, Mahmoud Dahoud starting ahead of the former Bayern man. Lukas Piszczek was a doubt but he makes it, in an otherwise incredibly young Dortmund defence: his three colleagues are 23, 22 and 19.
Bayern Munich
Neuer; Kimmich, Sule, Hummels, Alaba; Martinez, Thiago; Coman, Muller, Gnabry; Lewandowski. Subs: Ulreich, Ribery, Rodriguez, Rafinha, Boateng, Goretzka, Sanches.
Borussia Dortmund
Burki; Piszczek, Akanji, Zagadou, Diallo; Witsel, Delaney; Sancho, Dahoud, Bruun Larsen; Reus. Subs: Hitz, Goetze, Philipp, Wolf, Schmelzer, Weigl, Toprak
Uli Hoeness, recognising that sometimes placing too much expectation on a set of players is counterproductive and excess pressure can crush a team, duly chose his words carefully this week. "On Saturday, there can be no excuses," he said. "We have to win." All the best, Niko.
Potentially unwise though that statement might be from a man management perspective, he's not wrong. If they lose, surely that's game over for the Bundesliga title: Dortmund would be five points clear with six games remaining, five of which are against teams in lower-mid table with not much to play for. Naturally, you never write off the possibility of a cartoon baddie like Bayern coming back with something implausible right at the end, but they could be heading for their first entirely trophyless season since 2009.
In a weird way, a game like this it must be a bit of a relief for Dortmund. In a league where they play 90% of their games against teams digging in trying not to lose, facing a side who have to win, and thus have to attack, must be a nice change. Jadon Sancho must be licking his lips and rubbing his hands together at the same time as he thinks about counter-attacking in this one.
But will defeat spell curtains for Niko Kovac? "Second place is the first loser. We want to win," he roared this week, in that way alpha male types do when they're trying to hide feelings of doubt and inadequacy. Lucien Favre was rather more sensible and measured, but thus less fun. "If we win, nothing is decided, if we draw, nothing is decided, if we lose nothing is decided. It's completely open!" Don't ruin it, Lucien.
So never mind him. This is do or die. All or nothing. Death or glory. Stay tuned.
Kick-off: 17.30 BST