Thanks for joining me. Unlike the Arsenal and Everton players, go and enjoy the sun.
Very much a case of job done for Arsenal. It was a pretty poor game for both sides devoid of quality. Miedema's goal was easily the highlight and Arsenal will be pleased they are one step closer to the title and just need a win against Brighton to seal it.
90+4 min: A Little cross into the box is cleared behind for a corner and that's about it of this game.
90+2 min: A corner is swung in from the left by Worm and it has Van Veenendaal but it bounces onto the top of the net.
90+1 min: A deep cross is chucked but Turner fails to make a good connection and the ball runs free.
90 min: A pretty drab finish to this game. There's not been much quality throughout this half.
88 min: Chance is on for Everton as Kirk looks for a bit of luck.
86 min: Arsenal have not been particularly good today and Everton really should have put the under far more pressure. Toffees have four minutes to do something but don't look too keen.
84 min: Brownlie is on for Everton as they look to provide some extra energy which they have lacked for a while.
82 min: Carter almost has an immediate impact with a dangerous cross from the right but there is no one there to head it in as it flies across the six-yard box. Levell slows things down as she ties her laces.
80 min: Carter and Schnaderback are on for Arsenal as they look to freshen things up. Veje and Mead are those to make way.
78 min: Some nice play down the right allows Magill to send in a cross but it is headed clear at the front post. Everton need to up it here.
76 min: Arsenal try and pass it around the back to absorb time and then thwack it down the flank, allowing Levell to recover the ball in the corner.
74 min: Little sends in a powerful low cross but it's got too much on it and Miedema volleys it very high and very wide as she could not control it.
72 min: It's a drinks break!
We've had a tweet … I think people need to be a touch more professional in these situations and pushing the ref is a pathetic thing to do.
71 min: Everton need to press Arsenal more here, they're making it too easy for them to get out from the back. I know it's hot but they're one goal away from a potentially great result. Down the other end Bloodworth finds some space 20 yards from goal and rifles a shot just over.
69 min: Arsenal have so much space to work with down the flanks. First, Veje breaks away on the left but her wayward pace is cleared and then Mead gets space on the right but her cross is terrible.
67 min: The co-commentator is trying to come up with a defence for Van Veenendaal but fails to do so. An actual professional goalkeeper picking up a backpass is incredible.
65 min: Mead and Bloodworth combine well on the left but the former can't make anything of it in when she bursts in the box as she is almost immediately dispossessed.
63 min: Arsenal are looking a touch nervous now. Another here for Everton would massively derail their title ambitions.
Embarrassing stuff from Van Veenendaal as picks up a backpass from Williamson. That was impressively amateur. The indirect free-kick from eight yards is worked to Boy-Hlorkah who smashes it through the bodies and into the net. The goalkeeper needs to take a long, hard look at herself.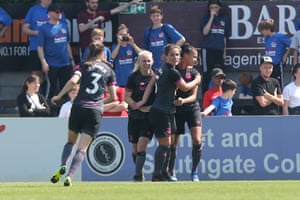 59 min: Inexplicably, and rather stupidly, Van de Donk is still having a go at the referee. Her captain, Little, rather than calm things seems to be also criticising the referee. The logic is pretty minimal. On the upside, we're playing again.
57 min: Stringer with a truly woeful challenge on Mead which only results in a yellow, much to the anger of the Arsenal fans. Van de Donk runs into the referee and pushes her but is only cautioned for her anger. Both should have seen red, Stringer went in over the top and Mead is needing plenty of treatment. Mad looks in pain and seems upset, thinking of the World Cup. Van de Donk was incredibly angry there and she needs to calm down.
55 min: If you want to know how slow this game is, the commentators are discussing individual fans. Not much happening on the pitch.
53 min: If Arsenal hold on here, which they will, a win against Brighton next time out will see them become champions, so they will not want to mess around here too much.
51 min: Arsenal are keeping hold of the ball well, no need to expend too much energy when things are so easy.
49 min: Mead swings in a corner from the left which lands on the head of Williamson just a few yards out but the Arsenal defender sends the cross well over. In worse news the Arsenal defender then fell onto Turner in the back of the net and the Everton player requires some treatment but she seems OK.
47 min: Stringer shows there is still look energy and intent left in Everton as she puts in a full-bloodied challenge on Miedema to make sure she wins the 50:50. Arsenal want a free-kick but it was a very fair challenge.
The sprinklers are on. Some of the fans might appreciate a cooling down, too.
Can Everton turn things around? Everton's tops scorer Carter is on the bench, so it might be an idea to bring her on at some point as they have struggled to threaten Arsenal.
The hosts deserve the lead but it's not been a scintillating clash in Borehamwood, possibly due to the weather being so hot. Miedema's goal was the highlight of a pretty slow game. Everton have had one decent chance and have rarely threatened.
45 min: Mead sends in a corner which is just about cleared, but only to Veje who smashes a shot from the edge of the area, it looks like it is going into the top corner until Levell dives to her right to tip it wide.
44 min: Everton's top scorer only has three goals all season, which is a sign that they are unlikely to get themselves back into the match. Still a pretty slow tempo in the sunshine here.
42 min: Everton get a corner but make nothing of it as the referee penalises them for a some pushing in the box.
40 min: Almost a third for Arsenal ad Van de Donk runs free down the right, permitting to cut the ball back for Miedema but she does not strike it cleanly and the ball bounces slowly towards Mead at the back post but Everton recover to clear just before the England international can steer it home.
38 min: Charles emails in: "Not all is lost for Everton – they're getting a decent amount of chances from down the right, where Veje seems to be having an off day. But props once again to Miedema, a walking (ambling) advert for the gangly, stoop-shouldered footballer who doesn't seem to be particularly enjoying herself, but is nevertheless fantastic at their job."
Veje has had a few issues but Everton have struggled with the final ball, anyway.