Unless City suffer another calamity on Sunday we probably won't be seeing Kyle Walker in goal, which is a shame, because few things in football are as much fun as seeing an outfield player thrust between the sticks. One of our picture editors, Steve Bloor, has put together a collection of some of the best examples of this over the years, here:
And a question for you: which player would you most like to see suffering an existential meltdown in goal? For me, it would have to be Cristiano Ronaldo.
Klopp was very keen that everyone at Liverpool plays their part in helping his side to victory over Manchester City on Sunday. And he means EVERYBODY!



If you want to climb you have to take top spot where City is. For us, it is obvious the improvements the boys have made [against them]. We have to play our best game, everyone. The guys who sell the hotdogs have to! That's what I wish for.
He also spoke about the emotional impact Sean Cox's injury had on him. Cox will be at Anfield on Sunday for the first time since being attacked by Roma fans outside the ground in 2018 and suffering life-altering injuries.



When it happened, it was the lowest point for me here at Liverpool. Because it should not happen in life or football games. The love Sean and his family have for this club, I hope it has given him strength and power in recovery. How the Liverpool community dealt with this, I hope he feels that. You'll Never Walk Alone – they sing it and live it. I hope he felt that the whole time. We can help him.
The Klopp-Guardiola rivalry is certainly no Fergie-Wenger, is it? Jürgen Klopp has been lavishing praise on Manchester City's manager before Sunday's match.



I couldn't respect him more. For me he is the best manager in the world. Wherever he goes he has a proper impact on the team. Now he's at Man City and it's not too bad. I don't have a negative relationship with anyone on the sidelines. It might look like that but it is respectful. Very respectful.
Klopp also spoke about the concerns City have about the greeting their team bus might receive.



If someone at Man City is concerned still, it is our fault. We didn't throw the bottle but it was one of us. We all need to make sure if doesn't happen again. It was a long time ago, nothing happened since. If we overstep the line, we cannot do it [the bus greeting] anymore."
Atlético Madrid v Barcelona
Lyon v Bayern Munich
Glasgow City v Wolfsburg
Arsenal v PSG
Quarter-final ties to be played on 24-25 March and 1-2 April 2020.
Semi-final ties to be played on 25-26 April and 2-3 May 2020.
In the draw for the semi-finals, the winner of Glasgow City v Wolfsburg will play the winner of Atlético Madrid v Barcelona, which means Arsenal or PSG will face Lyon or Bayern Munich.
The English champions play the 2016-17 runners-up.
Glasgow City face the two-times winners.
The reigning champions will play the Germans, who have never won the tournament.
The first quarter-final in the Women's Champions League is an all-Spanish affair.
It's hardly the biggest secret, but Stoke and the Irish FA have confirmed that Michael O'Neill has agreed to take the reins at embattled Stoke, who are bottom of the Championship table. He has signed a three-and-a-half year contract but will stay on for at least a couple more matches and juggle responsibilities. The club said in a statement:



O'Neill, who has signed a three-and-a-half-year contract with the Club, will take charge of City at Barnsley tomorrow after he oversaw his first training session this morning.

Michael is now fully focussed on preparing the team for the trip to Barnsley and will speak to the media for the first time as manager of Stoke City after the game in South Yorkshire.
The Irish FA added:



He will remain in charge of the Northern Ireland senior men's team for the remaining two matches in UEFA Euro 2020 Qualifying Group C and any Euro 2020 play-off matches in March 2020.
Women's Champions League draw! Right, this is due to get under way any second, so hold tight folks. Remember, nobody wants to draw Lyon. They have won it four times in a row and guarantee almost certain death.
Glasgow City are the minnows in the pot. They're the only team without a men's "parent team" and play at a sports centre. Suzanne Wrack wrote a fascinating piece about them this week:
It's not long until the Women's Champions League draw for the quarter-finals and semi-finals. Here's the draw procedure, courtesy of Uefa:
The quarter-final draw is without restriction. In each case, the club drawn first will play the opening leg at home
For the semi-final draw, four balls are prepared: Winner of Quarter-final 1, Winner of Quarter-final 2, and so on. The draw is without restriction, following the same principles as the quarter-final draw
England's Demi Stokes has been talking about the cross-sport solidarity between female athletes that has helped inspire each other.



When you see Jessica Ennis, Dina Asher-Smith or Nicola Adams you think: 'God, if they can do it then I can.' You want to see everyone win.
You can read the full article here:
Here's a Liverpool fan's view on Sunday's game from below the line:
I agree, it would feel very different if City were ahead by six or nine points. Liverpool's busy schedule and experience of letting a lead slip last season makes the title-race feel much closer than it would if Pep Guardiola's side were top.
What a strange career Armand Traore has had: Arsenal, Portsmouth, Juventus, QPR, Nottingham Forest, Cardiff, Çaykur Rizespor, and now he's back at Cardiff again. The 30-year-old made four appearances for Cardiff during a loan spell in the 2017-18 season. Here's Neil Warnock confirming the news:



Armand has signed as cover. He's been with us six weeks and he's just about got up to fitness. It's a short contract in case anything happens. Fans know him. He's got a very good left foot and loads of ability. He has trained really hard in the time he has been with us. It's an appearance-based contract as well, so it's up to him.
Two claret and blue sides on the slide meet at Turf Moor on Saturday. Here's Paul Wilson's match preview:
Merseyside Police have released a statement making it clear that they are aware of the social media post calling on Liverpool fans to line the streets of Anfield with their "pyro and pints" before the match. They seem to be confident the match will go ahead without any bus-bothering trouble, as it did last year.
Merseyside Police is working with Liverpool FC and Manchester City ahead of their Premier League match at Anfield on Sunday, 10 November 2019 to ensure fans of both clubs have a safe and enjoyable afternoon.

Superintendent Paul White said: "As with any match, a comprehensive and appropriate policing operation has been put in place ahead of Sunday's game and we have liaised with both clubs and their supporter groups.

"We are aware of one poster on social media regarding a bus welcome. The corresponding last fixture ran smoothly and we are working to ensure this game can be enjoyed safely by all as well as minimising any disruption to local residents and roads.

"As with all Premier League fixtures at Anfield, we will have officers on duty at the ground, both uniformed and plain clothed, supported by mobile CCTV, provided by Liverpool City Council, and specialist resources including the Dog Section, mounted police and the National Police Air Service. We will also have a city centre policing plan in place throughout the day. This is standard procedure.

"We know that this will be a busy operation and we hope that fans attending the match will act as ambassadors for their clubs. As usual we would ask fans with tickets to arrive at the ground as early as possible. Fans without tickets should not attend at all; they will not be allowed entry into the stadium."
The Women's Champions League quarter-finals and semi-finals draw takes place in 45 minutes' time. Here's the rundown of the teams who will be in the pot in Nyon but in short, everybody will want to avoid Lyon, whose striker Ada Hegerberg became the all-time top scorer on 53 goals last week.
Arsenal
Previous best: winners (2006-07)
Quarter-final record: W6 L6
Atlético Madrid
Previous best: first quarter-finals
Barcelona
Previous best: final (2018-19)
Quarter-final record: W2 L3
Bayern Munich
Previous best: semi-finals (2018-19)
Quarter-final record: W1 L1
Glasgow City
Previous best: quarter-final (2014-15)
Quarter-final record: W0 L1
Lyon
Previous best: winners (2010-11, 2011-12, 2015-16, 2016-17, 2017-18, 2018-19)
Quarter-final record: W10 L0
Paris Saint-Germain
Previous best: runners-up (2014-15)
Quarter-final record: W3 L1
Wolfsburg
Previous best: winners (2012-13, 2013-14)
Quarter-final record: W5 L2
The dates
Quarter-finals: 24-25 March and 1-2 April 2020
Semi-finals: 25-26 April and 2/3 May 2020
Final (Viola Park, Vienna): 24 May 2020
Our man in Madrid, Sid Lowe, speaking the truth here.
If Joel Matip is not fit for Liverpool this weekend, who will Jürgen Klopp pick in his place? Joe Gomez or Dejan Lovren? He's tended to favour Lovren in recent weeks and I expect he will do so again on Sunday, perhaps because of his experience. When Gomez and Alexander-Arnold have played on the right this season, that side has looked more exposed. Whoever he chooses, City will likely get more chances than they would against the hugely impressive Van Dijk-Matip partnership.
It's Der Klassiker tomorrow, with Bayern Munich hosting Dortmund at 5.30pm GMT. Jadon Sancho and Marco Reus are likely to miss out through injury but Bayern's caretaker manager, Hansi Flick, still expects a huge challenge from the second-placed visitors, who are one point ahead of Bayern. Flick wants to tighten his side up at the back.



We will undertake one or two changes. The way we have been conceding goals is not very Bayern-like. It is important for the team to be active. We have to defend from the front and try to get the ball back as quickly as possible. Those are the points we want to address.
On reflection, letting Mats Hummels return to Dortmund probably wasn't the best move was it? Both sides enjoyed midweek Champions League wins, with Dortmund's 3-2 comeback victory against Inter the most impressive.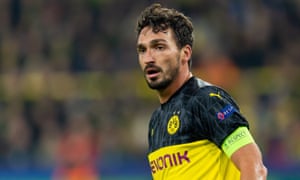 Forget first versus second, what about last versus second-bottom? It's happening tonight when Norwich host Watford, who are still without a win in the league this season … but there is still hope for Quique Sánchez Flores's side. Here's Martin Laurence to explain why:
Sheffield United, in sixth (sixth!) visit 11th-placed Spurs tomorrow looking to extend their four-match unbeaten run in the league. It's hard to know what to expect from Tottenham. They were bereft of confidence and disjointed at Everton but in midweek against Red Star they were full of beans and the football was flowing again as they won 4-0 in a bear-pit atmosphere. Chris Wilder reckons Spurs will soon bring that kind of form into their league campaign:



Sometimes things happen and people don't start in the fashion they'd have wanted to, but scratch beneath the surface and what you've got is one of the world's top managers coaching an unbelievable group of players. I've always had a lot of admiration for what Tottenham have done and the work they do on the training ground. Whatever system they play they have an identity but they mix it up – three centre-halves, diamond, all kinds of different systems. Whatever they do they have world class individuals and one result will get them up and running. They can't fail with the amount of quality they've got. But it's also another great afternoon for us to pit our wits against top-class individuals. We'll be fearless in our approach.
There's a sell-out crowd expected for England v Germany at Wembley tomorrow, which will be a record attendance for a women's game in England – and it's only a friendly! The sheen has worn off Phil Neville's side since the run to the World Cup semi-finals, though, and Louise Taylor has looked into some of the reasons why here:
England will come up against an extraordinary talent in Dzsenifer Marozsán. The Lyon playmaker will be pulling the strings for Germany but she is just grateful to be playing at all having just recovered from a life-threatening pulmonary embolism:
There's an intriguing match at St James' Park on Saturday, where Newcastle host Bournemouth. It's like the clubs have traded places in terms of style. Bournemouth are the stingy counterattacking side these days (like Rafa's Newcastle last season), having kept three clean sheets on the bounce. They have scored only once in those games, mind. Newcastle tore West Ham apart with some freewheeling football last weekend while having a wobble at the back in the manner of the Cherries in seasons past. Newcastle will be without their former Bournemouth player, Matt Ritchie, who has had a setback while returning from an ankle injury. Bournemouth boss Eddie Howe wants more of the same from his side after the 1-0 defeat of Manchester United last weekend:



Last week was great. We were really pleased with the performance, but the most important thing now is to hit that mark each week. Newcastle have some exceptional individuals. What we know is that we need to produce that Manchester United performance and if we do that, we can do well. We need to show the same mentality we have in recent weeks. I have been really pleased with that side of our game, we have had a steeliness which has made a big difference and we want that to become part of our DNA.
Mo Salah is playing down talk of Liverpool being nailed on for the title if they win on Sunday. He's been speaking to Sky about the title race:



They were talking about that in December last year. Six points, seven points, it's not much. It's just three games. It's too early to talk about the Premier League [title].
Perhaps he has a point given how stacked Liverpool's fixture schedule is in December. If this match was in January perhaps a nine-point lead would look insurmountable.
Can Liverpool v Manchester City be accepted as England's biggest game? asks Paul Wilson. Well, can it?
Arsenal have suffered an injury blow before their visit to Leicester on Saturday evening. Dani Ceballos has been ruled out with a hamstring injury, and with the mightily miffed Granit Xhaka's future at the club uncertain, it leaves Unai Emery's options in central midfield a little light. If Arsenal want to finish in the top four, they really have to win this game. If they don't, a gap could open up between the top four and the rest. It's hard to see the Gunners improving enough to topple Leicester away, though. Brendan Rodgers' side have been brilliant this season, both tactically and in terms of motivation and a win for the Foxes would surely heap more pressure on Emery.
There is some concern at Manchester City about the welcome their team bus might receive from Liverpool fans before Sunday's match. A social media post doing the rounds is urging Liverpool supporters to line the streets around Anfield before Sunday's game in the way they did before the Champions League quarter-final first leg in 2018, in which the City bus was damaged by bottles and other bits and pieces that were thrown its way. The post doesn't encourage that sort of behaviour, though, and does not mention the City coach at all, but the club has sought assurances from Liverpool that the coach will be given safe passage to the ground. Here's Jamie Jackson's story: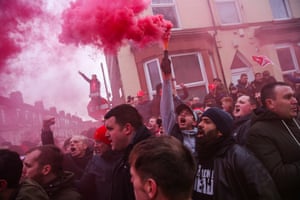 Some managerial news from the Championship now, where it is being reported by Sky that the Northern Ireland manager Michael O'Neill is taking a training session at Stoke ahead of being announced as their new boss. It's understandable why they would want him to get his hands dirty so quickly. They're bottom of the table, on eight points, and face second-bottom Barnsley – who are a point ahead of them – tomorrow. He's been brilliant for Northern Ireland, but is he the right choice for Stoke? He hasn't managed a club side for eight years – and he's only managed two in his career: Shamrock Rovers and Brechin City.
Unless you've been living under a rock this week, you may have heard there's a match taking place at Anfield on Sunday. It's the biggest Premier League match of the season to date by a stretch. Liverpool are six clear and could extend their lead to nine points, or they could be pegged back to three if City record their first league win at Anfield since 3 May 2003, when the Reds were undone by two goals from one of their former players, Nicolas Anelka, who was partnered in attack by the one and only Robbie Fowler. And who was the manager? Mr Kevin Keegan.
Will Ederson be fit for Sunday, though? We may find out at 1.30pm, when I'll bring you news from Pep Guardiola's press conference. Maybe Kyle Walker is his No 1 now. He does like a ball-playing keeper doesn't he? Jürgen Klopp will face the press at 12.30 GMT, which is when the Women's Champions League draw will be taking place. I'll bring you news of the quarter-final lineup and the eight teams will find out who they may face in the semi finals, too.
The eight teams in the pot for the Women's Champions League draw are as follows:
Arsenal, Atlético Madrid, Barcelona, Bayern Munich, Glasgow City, Lyon, PSG, Wolfsburg.
And here are the Premier League fixtures this weekend:
Friday
Norwich v Watford (8pm)
Is it too early to call tonight's match a relegation six-pointer?
Saturday
Chelsea v Crystal Palace (12.30pm)
Burnley v West Ham (3pm)
Newcastle v Bournemouth (3pm)
Southampton v Everton (3pm)
Spurs v Sheffield United (3pm)
Leicester v Arsenal (5.30pm)
Sunday
Manchester United v Brighton (2pm)
Wolves v Aston Villa (2pm)
Liverpool v Manchester City (4.30pm)
If you're wondering what to look out for in the matches above, this should help:
I'll bring you any news from Germany on Der Klassiker, too. Managerless Bayern, in fourth, host second-placed Dortmund at 5.30pm GMT on Saturday. It's a big one.