9 mins: Bale's first involvement in the game sees him run down the right, pop the ball into Vavro's arm and win a free kick for his troubles.
7 mins: Brooks runs infield from the right but his pass forward is rubbish, and he flings out his arms in frustration as it rolls straight to Pekarik. James doesn't give up on it, though: Pekarik takes a touch, James appears from nowhere, nicks it off his toe and thumps it into the back of the net from the edge of the area before anyone has time to react!
Wales score from their first attack, and it's Swansea's Daniel James who scores it!
3 mins: The first shot of the game comes from the right foot of Vavro. Sadly Vavro is a centre-back, and he's 20 yards out and in a bit of a hurry, and the ball goes well over the bar.
2 mins: A bright start for the Slovaks, and Joe Allen heads a right-wing cross behind for a corner.
1 min: Wales get the game started!
Anthems sung, hands clasped, we should have action very imminently.
Bale and Hamsik leads the teams out, and it's man-bun v top-spike. No contest, this one: Hamsik's barnet is, as ever, a thing of absolute wonder.
The teams are in the tunnel!
Jamie Lawrence, who is 26 but has only two caps, and 19-year-old Matt Smith are the two more surprising names in Ryan Giggs' team. Lawrence might have some inside knowledge on their opponents, having spent two seasons in Slovakia with Trencin, where he won the domestic double twice in 2015 and 2016. There's an interview with him where he discusses those years on the Sky Sports website (here), and here's an interview from 2015, when he was very much Slovakia-based:
Here are the teams in full:
Wales: Hennessey, Connor Roberts, Mepham, Jamie Lawrence, Ben Davies, Allen, Smith, Wilson, Brooks, James, Bale. Subs: Ward, Gunter, Dummett, Williams, Tyler Roberts, John, Matondo, Vaulks, Hedges, Woodburn, Thomas, Adam Davies.
Slovakia: Dubravka, Pekarik, Vavro, Skriniar, Hancko, Kucka, Lobotka, Hamsik, Rusnak, Duda, Mak. Subs: Kozacik, Stetina, Satka, Gregus, Mihalik, Stoch, Bero, Hrosovsky, Chrien, Safranko, Duris, Rodak.
Referee: Felix Zwayer.
Here's the Wales team: Hennessey, Davies, Mepham, Lawrence, Roberts, Allen, Smith, James, Brooks, Wilson, Bale.
And here's what Ryan Giggs says about it:



There's a lot of quality on the pitch. With a couple of players missing out we do lack that bit of experience but the only way to get experience is playing. I believe in the players I've picked and the lads on the bench too. We've got a plan, we have to stick with it, and I've got trust in the players. I don't think it's must-win, but it would be good to get off to a good start. If you don't it's not the end of the world because there's still time to make up.
Weather latest: It is a gorgeous sunny spring day in Wales, and much of the UK.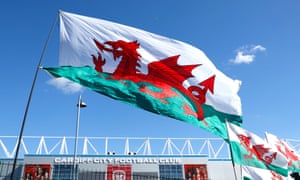 Hello world!
The task facing Wales in Group E seems clear: beat Azerbaijan and Hungary home and away, do no worse against Croatia than Slovakia do, and then it's a straight head-to-head with the Slovakians for one of the top two places. But while the other two teams in the group who, like Wales, are in the top 30 of Fifa's rankings got their campaigns off to relatively low-key starts on Thursday at home to the two lowest-ranked teams, Wales start with a six-pointer. If they are to follow this path to the finals it is absolutely crucial that they do not slip up here.
Inconveniently, they are without Aaron Ramsey, as well as Ethan Ampadu, Tom Lawrence and Sam Vokes. But David Brooks is available, as well as Gareth Bale. "Wales are a very good team, they are playing at home," says the Slovakia manager, Pavel Hapal. "They are very aggressive and run a lot."
This, is strikes me, is an unusual observation. You might think a team doesn't run very much, but surely running a lot is a given. I admit that there are occasional exceptions – the 2002 South Korea side, for example, ran a lot – but I'm not totally convinced that Wales are one of those. Can we therefore deduce that Slovakia don't run very much? I suppose we shall soon find out.