Christiane Endler is the best female goalkeeper in the world. I was really excited to see her play against the United States and for the world to see how good she is. She sets the bar extremely high and shows what women's goalkeeping should be. The USA-Chile game could very likely have been 8-0 to the United States but Endler kept Chile in it, and the score down to 3-0. She provided her team – and her nation – with a sense of genuine pride.
Christiane is the type of spectacular athlete that every country should be looking for to tend the net. There were comments made last week that women's goals should be smaller because we are generally shorter than men but I keep telling people we're not looking for average goalkeepers. We are looking for one in a million. For me, Christiane Endler is that one in a million.
She is strong, powerful and quick with excellent positioning, which is a hard combination to find. Her ability to read the aerial balls is also top notch. She is a complete goalkeeper.
Quality goalkeeping elevates the women's game to a different level. That's one reason why it was unbelievable to me to see an advocate and a coach for the women's game make comments about women playing with smaller goals. Instead, we should be pushing the game forward and showing what women footballers are capable of. Against the US, Endler showed the world we can do this.
Goalkeeping is one of the last aspects of the game to develop in women's soccer. Once again, it comes down to a lack of resources. Goalkeeper coaches are often the last hired on many professional teams. When I first started playing in a professional league when I came out of college I expected to have quality training. Instead, it turned out we didn't even have a goalkeeper coach. Importantly, we often don't put the best athlete in goal, either. Male goalkeepers are almost always also incredible athletes but that's not always the case for women. Goalkeepers who do not have the best athletic abilities are often selected on the women's side.
I wouldn't be surprised if Endler's performance made Carli Lloyd think twice about what she normally does when she missed her penalty on Sunday. But that is what a good goalkeeper does – you put doubt in the mind of a penalty taker. Carli is tough on herself and the penalty miss will be hard for her to swallow. It was definitely uncharacteristic but knowing Carli, she will spend time practising penalties and she will put it away when it counts. It was a great team performance by the US and Carli played very well showing that she can play both as a forward and in midfield.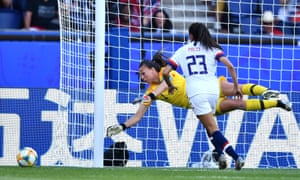 Carli is a very honest person who holds herself to the highest standards. She is fitter and stronger than she was four years ago. She is coming to this tournament feeling the best she has ever felt. She has a great deal of endurance to carry her through seven games. She knows how to recover. She is smart. I'd even say she is a better player now than she was in 2015.
So she shouldn't have to always prove herself. She is a two-time Fifa World Player of the Year and has shown time and time again that when the pressure is on in the biggest games she will find a way to carry the team. None of this is surprising to me, though. For example, her left-footed volley against Chile was not happenstance. She works on these things. She has a far higher work ethic than anyone I have played with. When we were teammates, I'd take a day off from training, the team would take a day off, but Carli would not.
That sort of attitude can't be coached. Carli has a deep, innate desire to be the best player that she can possibly be. Talent doesn't always take you to the next level. Carli always had the talent but she had a gentle look in the mirror and realized that talent wouldn't be enough. Credit has to be given to her personal coach, James Galanis. He had a huge influence on her life and her soccer career.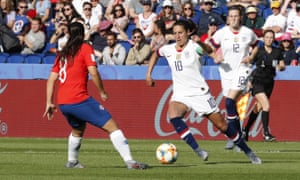 James said to her, "Yeah, you're good but if you want to play on the US team, and play at the Olympics and World Cups, if you want to be the best in the world then you have to put in the work." She listened. She put in six hour days when the rest of us were training for two hours. When she made that commitment to herself there was no looking back.
Tournaments like this are Carli's bread and butter. If my back is ever against the wall I would always want Carli to be the player beside me. She will always find a way to get out of a difficult situation. I've seen her do that again and again. Christiane and Carli may be at very different stages of their careers but they have a few things in common beyond Sunday's game. They both still have so much more to offer that we have not even seen yet. I'm hoping they both light up some more of this World Cup.