Tottenham might hope Gareth Bale had better things to do than watch this. They managed to extricate themselves from trouble against a limited Lokomotiv Plovdiv but only after the Bulgarian side had imploded when the finishing line was in sight.
When Martin Minchev scored with 18 minutes to play Spurs were facing humiliation and a season away from the European stage. Two sendings off, a Harry Kane penalty and a Tanguy Ndombele winner later, the situation had been salvaged and Bale's imminent return could keep its leading role in the headlines.
In the end Spurs were fortunate not to join Iskra Danilovgrad, Spartak Trnava and OFK Belgrade among Lokomotiv's scalps from the past two decades. They controlled most of the game but only carved open their opponents on two or three occasions before going for broke in the latter stages.
Lokomotiv were down to nine men by the time Ndombele awkwardly prodded in a lay-off from his fellow substitute Lucas Moura and they had no resources to mount a response. The identity of the scorer did, at least, allow José Mourinho to eke a genuine note of optimism from the evening.
"Tanguy is in the process of evolution," he said of Ndombele, with whom he has rarely seen eye to eye. "Last season he wasn't; he was stuck in a situation where I couldn't see evolution. In this moment I believe in Tanguy. I never had a doubt about his quality but in some moments I doubted his motivation, commitment and professional attitude."
It sounded like progress, at least, and it was as well to linger on that given there was little else to savour. Mourinho had picked a strong lineup, making four changes from the team that limply lost against Everton but only leaving Dele Alli and Toby Alderweireld at home.
They began strongly enough, the returning Giovani Lo Celso pulling the strings on a bobbly pitch. Lo Celso played through Son Heung-min for a second-minute effort that Martin Lukov repelled with his legs, and shortly afterwards the pair combined to tee up a first-time effort for Steven Bergwijn. His shot shuddered the crossbar and that was almost it in terms of first-half incident.
Usually this tie would have been contested in front of a set of fans as boisterous as any in the region. A number had assembled outside the stadium, offering audible encouragement via amplifiers. Lokomotiv might have fancied their chances in a more hostile atmosphere than this but they still grew into the game admirably. While they rode their luck when Lucas Masoero appeared to trip Bergwijn just before the half-hour, the referee Harm Osmers appearing kind in his refusal to award a penalty, they were rarely stretched again before half-time.
The invisible home support let off a smoke bomb early in the second period but Spurs emerged with more clarity, Ben Davies crossing first time for a chance that Son surprisingly skied at the near post. Kane drew a stop from Lukov but then came the sting that, for a while, threatened to change the complexion of their campaign.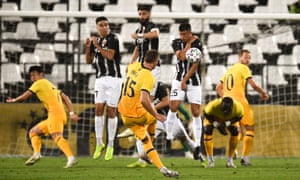 It arrived after Davinson Sánchez had cheaply conceded a corner, which was subsequently swung in from the left and flicked on. Minchev, who had only come on four minutes previously, headed past Hugo Lloris on the run and at that point Mourinho's side had no obvious way out.
Moura replaced Sánchez and Tottenham essentially approached the game's remainder with a back one of Eric Dier. Their pressure told when Davies's header beat Lukov and was desperately scooped out by the hand of Dinis Almeida. That was an automatic red card but, even allowing for the fact Kane was unlikely to miss the penalty, Lokomotiv might still have felt confident of taking Spurs to 120 minutes. But they lost another man when Bircent Karagaren took it upon himself to, as Mourinho put it, "dig a hole in the penalty spot", and was shown a second yellow card. Kane eventually converted and now Spurs were out of excuses. Ndombele duly bailed them out, however scruffy the finish was; they will play Shkendija in Macedonia next week but first eyes turn to the prospect of a flash of inspiration from Madrid.
"I don't comment on something I don't know," Mourinho deadpanned of Bale, who will fly to London to complete a move with his teammate Sergio Reguilón on Friday. "Until I am told Gareth Bale is a Tottenham player I still think, feel and respect the fact he is a Real Madrid player." In the circumstances, that sentiment sounded wiser than he had perhaps intended.