Manchester City will not let up. They endured, at most, four minutes of real anxiety here, as energy levels dipped and their hosts roused themselves to press for an improbable equaliser late on, but this felt a success as straightforward as they come against the only team to have claimed Premier League points from the Etihad stadium this season.
That late flurry aside, it was a win devoid of drama; the kind of routine victory the champions seem to specialise in and leaves onlookers debating the inequalities in the elite division.
How Liverpool would have yearned for Crystal Palace to inflict proper wounds as they had done up in Manchester, rather than merely summoning a free-kick from Luka Milivojevic close to the end that hinted at an unlikely finale.
There was no concerted onslaught to follow. Once City had regained composure they would infuriate the locals by hogging the ball near the corner flags before Gabriel Jesus, marginally offside but permitted to continue on to Kevin de Bruyne's slipped pass on the counterattack, plucked a third goal in stoppage time to have Pep Guardiola and his staff spilling out in celebration from the dug-out.
They, like everyone present, knew that anything other than an away win would have been a scandal. This had been a masterclass in the suffocation of opponents through blanket possession and almost the perfect stroll given City have a deficit to retrieve in the conclusion of their Champions League quarter-final against Tottenham on Wednesday.
Raheem Sterling, whose goals had set the tone, would insist refuelling was his priority rather than the chance to sit and watch Liverpool take on Chelsea. "I'm hungry, I need food," he said through a smile.
City were without Fernandinho, but hope to have the Brazilian restored against Spurs, and others have found form and fitness to bolster options in a cluttered schedule. Ilkay Gündogan was imperious, pinging passes merrily and utterly unflappable until he and Vincent Kompany messily upended James McArthur on the edge of City's area to allow Milivojevic his opportunity.
De Bruyne, free at last from injury, was just as incisive whether operating from the flank or centre. "The last three or four games he's played, he's been incredible," said Guardiola. "We'd missed him a lot. He has that ability and vision that most human beings do not have. He is fresh mentally and in his legs, too."
The Belgian's delivery tends to be thrilling, the whip and bend to his crosses cutting out backlines, and the weight of the pass, when placed along the turf, immaculate to have opposing defenders floundering. His through balls seem to be almost magnetically drawn to team-mates who collect them in their stride. Sterling had been the early beneficiary, De Bruyne sliding one of those tantalising passes inside Patrick van Aanholt for the forward to chase beyond Scott Dann. The finish was dispatched emphatically across Vicente Guaita and high into the net.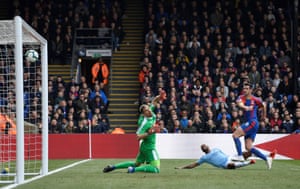 Sterling is appreciated in these parts, his recent dedication to Damary Dawkins – a 13-year-old member of Palace's elite player development centre who died last month after a four-year battle with a very rare acute lymphoblastic leukemia – upon scoring for England against the Czech Republic having won him friends. Even this rampaging display will not damage that favourable reputation.
His scuttling runs brimmed with menace and Palace, a team shorn of first-choice centre-halves and saddled by a dreadful home record, never came close to stifling his threat. They might have shipped to him earlier, Gündogan bustling round McArthur to the by-line before pulling back a cross that Sterling, unmarked at the far post, side-footed mystifyingly wide of the upright. In terms of his afternoon's work, however, that miss proved exceptional.
All Palace could do was cling to the contest, hoping City would eventually succumb to sloppiness, complacency or fatigue, which never felt likely. Only the substitute Cheikhou Kouyaté seemed intent upon disrupting their rhythm as Christian Benteke, a striker without a goal in open play for 14 months, admirably attempted to unsettle Kompany in the absence of much support.
Roy Hodgson was torn between committing in pursuit of parity or hanging on until asking his players to rally late. As it was, having survived without further damage until just after the hour, Leroy Sané would fizz a pass across goal and Sterling, having again squeezed space from Van Aanholt, sidefooted a first-time finish with a thud of his boot back across Guaita and in.
The gulf between the contenders and the rest can gape at times, for all Palace's defensive resolve and late semblance of a rally. "I can't disagree that there's an inequality in the league, but I don't know if it's a problem: it's a fact of life," said Hodgson. "In all leagues, cream rises to the top. That cream is well fortified by the amount of money available to spend and the quality of the players they can bring in.
"Those of us who can't get into that group for various reasons – least of all financial – have to accept that and find ourselves playing quite a few games like this where the chances of winning is not great. You're up against a team who are better than you; who ask too many questions for you to answer."
This was one of those occasions, an exercise at best in containment and hope. As it was, City were in no mood to play ball.