The weekend officially starts when our first match preview goes live. So thanks to Watford v Wolves! It's a repeat of that wonderful FA Cup semi-final. Here's your team news here:
Thanks Will. Spoiler alert: Huddersfield can beat Liverpool by scoring more goals than them. You'll have to think of something else to say later.
Good news for all involved! Gregg is back! But do not worry, I will be returning later to wrap it up and explain how Huddersfield can win tonight.
Manuel Pellegrini gives an update on Jack Wilshere's fitness and states he is available to face Spurs this weekend.
Pellegrini told Sky Sports: "Jack is working with normality with the whole squad; he doesn't have any pain in his ankle. he will be on the squad list tomorrow. Next season I think that Jack will have an important role in our team."
A bit more from Dyche following Burnley's backroom staff kicking off with Chelsea's management team on Monday night. You'll be pleased to know that everyone's favourite bouncer is not in favour of this sort of thing and the matter is closed!
"Both parties decided it was an emotional moment, something out of nothing really," Dyche said. "The fact is, it's not displayed as a good thing, we don't condone melees and all that, but it was two groups that cared."
Dyche added: "They care about trying to get in the Champions League, we care about getting a vital point to, almost, seal our place in the Premier League. It ends up not the right display, but two groups who care deeply about what's going on and there's nothing other than that. We have absolutely no problem at all with it. It's done and dusted. It's one of those things."
It's the second leg of the Women's Champions League semi-final between Chelsea and Lyon this weekend. The first leg in France ended with the hosts winning 2-1 but Chelsea certainly showed their quality against the all-conquering Lyon.
Midfielder Karen Carney is backing her current Chelsea side to match the successful Arsenal team she was a part of over a decade ago.
Carney, 31, was part of the only English side to win a major European honour as she lifted the Uefa Women's Cup – the precursor to the Champions League – in 2007 with Arsenal. The England international scored in the second leg of the Gunners 3-0 semi-final victory over Brondby and is targeting the same result from a squad showing some of the traits of that Arsenal side.
"I just hope it is the same outcome," she said when asked to reminisce about her success 12 years ago. I don't care if it is me or anyone else who scores, I just want to get to the final.
"It is really funny, we have the same conversation all the time – that Arsenal team that won it have so many similarities to this current team. It is actually a joke. The similarities are just incredible, the characters, people, personalities. The grit and determination.
"I see a lot of that team and the characteristics in this team and I hope the team continues to be themselves and when it comes to the game on Sunday they express themselves and I would love the same outcome."
"My kids never go to Champions League games but they want to go to this one."
Our man in Spain, Sid Lowe, has spoken to Luis Suárez about Liverpool, Barcelona and being Messi's next door neighbour.
Liverpool fans are sending some words of encouragement to Burnley. Will it work?
For your enjoyment when you want to procrastinate …
Some good news for Manchester United, as Ander Herrera has returned to training after missing the last six matches due to a hamstring injury. The Basque midfielder's absence has been noticeable in recent weeks, a possible sign of things to come when he almost certainly departs during the summer.
Manchester City are going to Turf Moor on Sunday in what is, on paper, the trickiest clash of their final three games. Burnley looked like they would be in a relegation battle at this point of the season but have turned things around over recent months and moved clear of Cardiff and Brighton.
Sean Dyche said in his pre-match press conference: "We've not just fought our way out of trouble, we've scored more goals than most other teams in doing so. The main thing for me has been the consistency in our performances."
Dyche has spotted that City are pretty good but I am sure he would love to claim their scalp.
"Manchester City are a top side," Dyche added. "We want to take on the game and at least prove that we can challenge with the elite teams.
"The top six are miles ahead, but we are looking forward to it, especially in front of our own fans."
Good morning! We've swapped the Liverpool fan with a Manchester City one to redress the balance heading into a huge weekend in the title race. No chance of saying we're biased here.
Right, I'm going to grab a break so Will Unwin will take over on the blog for a little while. See you again shortly.
If Bruce Forsyth was still around to cast judgment on Southampton manager Ralph Hasenhuttl's performance since succeeding Mark Hughes he'd surely say: "Didn't he do well." Saints are on 37 points and this close to securing survival after a dreadful start to the season under Hughes. In the 20 league games following his arrival, Southampton have picked up 28 of their overall season tally of 37 points. Three more against Bournemouth would see them reach 40 points – the traditional safety mark in the Premier League – and Hasenhuttl feels the players owe it to everyone at the club to produce the required performance.



I know this is something like a derby against Bournemouth on the south coast, because they are not so far away from each other. It is a special game and for us it is mainly a special game because we can make the last step. We are very motivated to make the last step in front of our crowd – it is exactly what we wanted to have three games before the end and now we have the chance.
Ole Gunnar Solskjær says he will keep faith with David De Gea for Sunday's visit of Chelsea despite the Manchester United goalkeeper's form having taken the mother of all nosedives in recent high-profile games.
Neil Warnock feels Cardiff can escape relegation from the Premier League as the "shackles have been off" since the controversial defeat to Chelsea last month. Cardiff head to relegated Fulham on Saturday filling the final relegation spot, three points adrift of Brighton and with an inferior goal difference. But manager Warnock said: "I know it sounds silly because you'd think there would be more pressure on us. But since the Chelsea game the shackles have been off us. We just think we'll do what we can now and what will be will be. We played like that at Brighton, and I'd be quite happy if we played like we have done the last few weeks."
Midfielder Joe Ralls will play no further part this season after tearing his hamstring against Liverpool last weekend and Warnock joked that Harry Arter, who has been trying to recover from a calf injury, hasn't been allowed to watch training this week because he's Scott Parker's brother in law and could be a spy. Honk.
And now for something a bit different. Leyton Orient are on the verge of a return to the Football League. Jobi McAnuff has made more than 700 appearances across an impressive 20-year career, won promotion to the Premier League, represented Jamaica in the Copa América, swapped shirts with Lionel Messi, and walked out in front of 70,000 people in a Gold Cup final against Mexico, yet the only thing on his mind right now is facing Braintree Town. Stuart James went to speak to the Os captain.
"The FA Youth Cup? I'll take what I can," cheers Matt Dony. Unfortunately, Klopp's side didn't enter the Liverpool Senior Cup this year, Matt. Careless to pass up the opportunity for silverware. Southport scooped that.
Ole Gunnar Solskjær has been speaking about the future of Paul Pogba, who has been linked with a move to Real Madrid this morning. Here's what he had to say:



You can't guarantee anything in football but yes I think Paul is going to be here. I can assure you that he is very determined to be successful at United. That's just the standards he sets because when he's creating chances, scoring goals, doing loads of work … that's just media, supporters, everyone looks to Paul. 'Could you have done better?' He's done fantastic for us, he's a human being as well and we're all the same, we want him to do well. He's a leader in that dressing room and on the pitch for us. Back to if I can guarantee, I would say yes, I can guarantee but in life you can never, but he will be here as far as I'm concerned. You can't change 10 players and bring 10 players in in one go. You have got to get this group of players to a stage where you're happy.
The PFA Women's Team of the Year has been announced and players from Arsenal, Chelsea and Manchester City dominate. The prolific Dutch striker Vivianne Miedema is one of three players from Arsenal included in the team. The division's top scorer, who has struck 21 times and provided nine assists in 18 appearances to lead the Gunners to the brink of their first title since 2012, is joined in the XI by her midfield team-mates Kim Little and Lia Walti.
PFA Women's Super League 1 Team of the Year 2019
Sophie Baggaley (Bristol City), Hannah Blundell (Chelsea), Aoife Mannion (Birmingham), Steph Houghton (Manchester City), Demi Stokes (Manchester City), Ji So-yun (Chelsea), Kim Little (Arsenal), Lia Walti (Arsenal), Erin Cuthbert (Chelsea), Nikita Parris (Manchester City), Vivianne Miedema (Arsenal).
Raheem Sterling scooped an award last night for his powerful stance in highlighting racism, stereotyping and abuse in football and the media. He won the Integrity and Impact award at the BT Sport Industry awards and had this to say on stage:



When the next generation come through, you have to set the example. Coming through at Liverpool I had people around me like Steven Gerrard I looked up to. Looking at him I thought what can I do within myself to be half the person and player he was. You take little things and each year, try and develop not just on the field but off it. I was just speaking about my personal experiences, I didn't expect it to get so much attention. I just wanted to bring it to the attention of my audience on Instagram. It's been really pleasing to see people listening and trying and do better." Well done Raheem.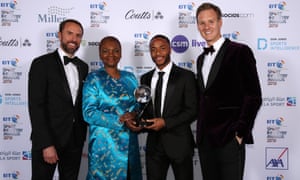 If Liverpool were looking for a positive sign as they do everything they can to overcome the Manchester City machine and win their first league title in 29 years, they could look to their Under-18s for inspiration. They beat City on penalties in the second leg of the FA Youth Cup final last night to take the trophy back to Anfield for the first time since 2007. Pep Guardiola was watching too!
There are just three matchdays left in the Premier League, readers. You can almost smell the end. But as Grace once warbled in 1994: "It's not over, not over, not over, not over yet!" The weekend's Premier League action kicks off at Anfield tonight when title-chasing Liverpool host relegated and rock-bottom Huddersfield at 8pm. If the Reds win they will go two points clear of Manchester City in their ridiculously high-quality blinking contest, meaning the Premier League lead would have changed hands a staggering 29 times this season. Pep Guardiola's side travel to Burnley on Sunday afternoon, where they can snatch the lead back if they do the business and win there. Mind you, they drew 1-1 at Turf Moor last season.
Perhaps it's not quite as cut and dried as many believed it to be after City's 2-0 win at Old Trafford. Jürgen Klopp is certainly of that opinion. "It was not the last chance before the [City] game [against United]. Why should it be the last chance after the game?" he said. He also helpfully pointed out that although many have been saying that Liverpool and City are both champion teams this season, the title race "is like Highlander. Only one of us will be there at the end." Unfortunately for Klopp, he doesn't have an immortal Scottish swordsman in his squad.
Away from the top two, there are other big matches this weekend. In the race for the top four, Spurs get the chance to close in on qualifying for the Champions League next season when they host West Ham in Saturday's early kick-off. Cardiff can pile the pressure on Brighton in the scrap to avoid relegation if they beat Fulham before the Seagulls host Newcastle in Saturday's late kick-off. And Arsenal will hope to put an end to their wretched away from when they visit Leicester at midday on Sunday. They can move up to fourth before Chelsea visit Manchester United in a huge match in the battle for Champions League qualification. United's top-four hopes would be left in tatters if they lost to Chelsea.
Friday: Liverpool v Huddersfield (8pm)
Saturday: Tottenham v West Ham (12.30pm), Crystal Palace v Everton (3pm), Fulham v Cardiff (3pm), Southampton v Bournemouth (3pm), Watford v Wolves (3pm), Brighton v Newcastle (3pm).
Sunday: Leicester v Arsenal (12pm), Burnley v Manchester City (2.05pm), Manchester United v Chelsea (4.30pm).
There are some huge games in the Championship and Leagues One and Two this weekend too. After stalling countless times, Norwich will look to finally gain promotion back to the Premier League when they host Blackburn at 7.30pm on Saturday. Here's a handy guide to what's still at stake in England and Scotland.
And here's some things (well, 10 of them) to look out for in the English top flight this weekend: