This draw was greeted rapturously by the home fans at Carrow Road, but not by Norwich's manager, Daniel Farke. The German said he was too angry to celebrate when Mario Vrancic struck a spectacular equaliser for his team in the seventh minute of stoppage time.
The point takes Norwich to within touching distance of a return to the Premier League – they will seal promotion on Monday if they win at Stoke and one of their closest pursuers, Sheffield United and Leeds United, slip up – but Farke is concerned that bad refereeing could cause more twists in the Championship run-in.
"I was not willing to celebrate that much because my feelings was it was not fair play [in this match]," said Farke, who claimed that four key decisions went against his team here to prolong a sequence of "more than doubtful," decisions against his team. "It's not acceptable any more," said Farke. "There can be mistakes but not in five games in a row. I don't accuse anyone or say it was intentional or whatever, but if it goes on like this it will be difficult to get promoted."
He said he trusted his team to overcome any obstacle they encounter in their three remaining matches as Norwich aim to end their three-year exile from the top flight. "With this character and spirit, this dressing room is unstoppable" he said. "If in the next game we finish with only eight lads and have to play with our weak foot or whatever, we will still get points."
Farke is not usually given to such outbursts and he was not alone here, as his Sheffield Wednesday counterpart, Steve Bruce, said that he, too, was "absolutely devastated" by some of the decisions that went against his team here, including the free-kick that led to Vrancic curling the ball into the net at the death.
Until then Wednesday had been set to ruin Norwich's Good Friday by inflicting their first home defeat since December. In the end, a third consecutive draw for Norwich means they are edging towards promotion. At least on Monday the influential Emil Buendia will return to their team after serving a three-game suspension for his dismissal against Queens Park Rangers, another of the decisions that Farke bemoaned. Buendia's absence has been sorely felt.
Wednesday, mind you, were not expected to trouble the hosts here, as their own promotion ambitions had faded and, what is more, they lost their goalkeeper, Kieran Westwood, to an injury in the warmup here. His replacement Cameron Dawson, had not played a league game since December. Perhaps rustiness was to blame in the eighth minute when he lost his bearings and needlessly handled the ball outside the box. Norwich demanded a red card but the referee deemed a yellow to be sufficient. That was the first decision that vexed Farke, especially when the goalkeeper made the most of his let-off by saving the ensuing freekick by Marco Stiepermann.
The home goalkeeper, Tim Krul, enjoyed an escape moments later when he was taken by surprise by a shot from over 30 yards by Fernando Forestieri, fumbling it before collecting the rebound.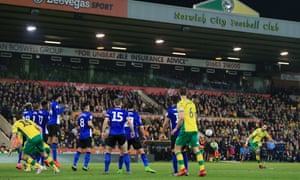 As Norwich pursued the lead with typically fast play and fierce hunger, Stiepermann slipped a sharp pass through to Onel Hernández but Dawson produced an exemplary save, sticking out his right foot to turn away a well-struck low shot. Soon, however, the same pair combined to beat him. This time Hernández fed Stiepermann and the midfielder drilled a low shot into the net from the edge of the area.
Norwich's plan was to get where they wanted to go by knocking Wednesday into the middle of next week. And they were threatening to do that until the 33rd minute, when Forestieri shocked them and every other onlooker by blasting a shot into the top conner from 30 yards. It was an extraordinary strike that Krul's dive never looked likely to prevent flying into the net.
As Norwich chased another goal, their zeal detracted from their precision. Ben Godfrey headed wide in the 50th minute from six yards after a near-post flick-on from a corner. One minute later Krul had to excel to turn away another ferocious shot by Forestieri. But moments later Norwich were outraged as Wednesday took the lead via the arm of Steven Fletcher. The striker had slid in to get on the end of an inswinging cross from the left and, after Krul spilled his initial effort, he bundled the ball over the line. Not by using his arm deliberately, according to the referee, whose interpretation infuriated Norwich.
Then Wednesday irritated them by repelling their attack so darn well. Until Vrancic was deemed to have been fouled on the edge of the box and stepped up to curl the free- kick into the net.