Here come the stats.
Howay the lad.
Steve Bruce actually took a while to break into a smile there but did so in the end. The drought is over against his old club. It looks like he is getting the better advice from Sir Alex Ferguson. Newcastle are 16th, and Manchester United are 12th, just a point above their conquerors. Crisis? Oh yes, this is a crisis. Those who want Solskjær given time are probably going against the tide at this point. And there has to be the thought that he might not want to stick around himself.
That's it, Newcastle have done it. What a day for Steve Bruce, what a day for Matty Longstaff, who was superb even before his goal. Manchester United were dreadful, again, and the Ole Gunnar Solskjær romance is all but dead. Will he be in charge by the time United play Liverpool on October 20th?
90+4 min: A Krafth handball gifts a set-piece chance to United. Pereira takes after a tussle in the box. De Gea goes up for it. And Pereira hooks it high and into Dubravka's arms.
90+2 min: Fred loops up a long ball but Rashford is no Andy Carroll. Yedlin excitedly runs down the other end, and loses the ball. But do Manchester United have what it takes to hurt them?
90+1 min: Where are the wave upon waves of Manchester United attacks in this circumstance? Way back in the past by the looks of this game and many others over the last six years.
90 min: Final Newcastle sub. Almiron slopes off and on comes Emile Krafth. There will be four minutes to be added on.
89 min: Matty Longstaff and Scott McTominay get involved and the debutant looks pure radge as he confront someone six inches taller.
88 min: Marcus Rashford's body language is meanwhile desolate. He has not been lucky enough to play in a good United team and he is not receiving much service as a young player but he looks like someone shrinking under the responsibility.
87 min: Ole gesticulating wildly on the touchline and his reactions suggest he is not happy with the responses he is receiving.
86 min: Final Manchester United sub. On comes Tahith Chong for Ashley Young. Who takes United's free-kicks now?
84 min: Newcastle sat back, with even Andy Carroll sat deep. This has turned into a game of attack versus defence. Or to put it properly, a slightly shaky defence against a blunt instrument of an attack. Greenwood's header is saved easily by Dubravka.
83 min: Newcastle sub: Saint-Maximin for Atsu, who will be expected to replicate his predecessor's hard running.
82 min: Free-kick to United in dangerous position, though, on the edge of the box. Pereira hits the wall and then poor Fred makes a mess of his attempt to get a shot in.
80 min: Fred is jeered as he launches a shot that lands somewhere in the Jesmond area of Tyneside. United have been aimless and hopeless, even more so after the goal went in.
79 min: Rashford, who looks anything less than his free-spirited best, plays a terrible ball into the area. Remember that aimless hoof by Victor Lindelof the other night? Think that, but not by someone attempting to clear his lines. Oh dear.
78 min: Marcos Rojo, as is customary, has been booked for a piece of foul play.
77 min: Newcastle confident now. Sean Longstaff shoots from distance but is not quite as deadly as his brother. David de Gea saves with ease.
75 min: Oh Ole, what can you find now? Maguire, somewhat culpable in the goal, drives the ball forward. Ashley Young attempts a cross from the flank, but Mason Greenwood cannot get on the end of of it.
73 min: The brothers Longstaff had been struggling in midfield for a few minutes but the younger brother stepped up there. Remember, he hit the bar earlier. United wanted brother Sean in the summer; do they want both now? Mike Ashley will be only too happy to name his price.
72 min: Saint-Maximin ran deep into United territory, and then Willems makes space with some neat skill and a pass that tees up Longstaff minor to drill home.
What a story, what a goal….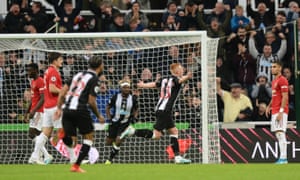 71 min: Rashford had the goal begging from a fine piece of James play but Schar manages to get the ball away. Just. United win another corner to follow that. Young hits Maguire again but the header is askew.
69 min: Greenwood almost plays Young in, but the choice of cross rather than shot allows Newcastle to clear. Saint-Maximin's run to the other end of the field causes mild panic before it's overrun. Space opening up now for both teams.
68 min: Newcastle still back in numbers when United attack. Fred in particular seems bamboozled by having so many defenders in front of him. However, the home team are edging back, and inviting pressure.
66 min: Almiron booked for diving over a tackle by Rojo. Did he learn that in The MLS? Meanwhile, a Manchester United change sees Mason Greenwood come on for Juan Mata.
65 min: Carroll nods over. Yedlin's cross finds the centre of the box and Tuanzebe read the run well and put the big man off.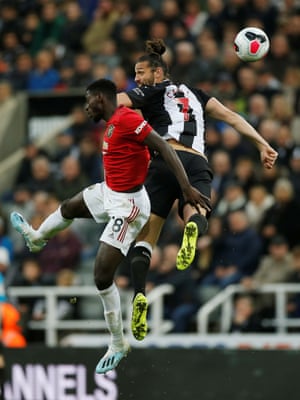 63 min: The game has opened up a little since that Carroll arrival. It's a move that suggests that Bruce fancies sneaking a win and opens the route to a United goal, too. Not that their forwards look capable of doing much, save perhaps for Daniel James.
61 min: That means Tuanzebe is playing full-back, which is not much of a franking of Ole's belief in the youngster. Having said that, Dalot is reported as injured. Another muscle injury. All that sweat in the Far East and Asia doesn't seem to have done much for United's sick bay.
60 min: On comes Marcos Rojo for Diogo Dalot, which doesn't look like an injury-enforced change. Tactical to deal with Carroll? It looks like it as Rojo is immediately on the local hero's shoulder.
58 min: United chance! Pereira whips in a ball from the left and Daniel James cannot get there as Willems just manages to put him off.