Peep peep! Manchester United lead through Paul Pogba's debatable penalty, though they flattered to deceive for much of the half. See you in 10 minutes for the second half.
44 min Felipe Anderson swaggers infield from the right and drills a low cross that is kicked away by the stretching De Gea. West Ham are a bit unfortunate to be behind. They've had an even share of this half, and had an early Felipe Anderson goal wrongly disallowed.
43 min A West Ham corner is half cleared and comes to Felipe Anderson, who thrashes wide of the near post from the left side of the box. That was a chance.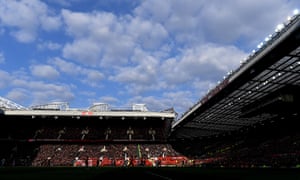 42 min "I must say, and I don't wish to jinx him, Phil Jones been absolutely magnificent thus far," says Duncan Edwards. "He's used his positioning, reflexes, and concentration to snuff out several dangerous situations. On the other hand what the flip is Martial's problem. An energetic and dazzling show today and he'd be brimming with confidence for the Camp Nou. Instead he's taking Pogba's lead and pratting about taking too many touches."
He's not a killer, that's his problem, and I'm not sure you can be a great player unless you are.
40 min Martial plays a neat reverse pass to Lukaku, whose shot from 20 yards deflects wide off Ogbonna. Mata's outswinging corner is headed over from 12 yards by the unmarked Smalling, who should have done better.
39 min Lingard, incidentally, has been really poor since his return from injury. He's a deceptively important player and United could do with him at his best in Barcelona.
38 min A superb flick from Lukaku finds Lingard, who tries to go past Ogbonna in the area and loses the ball. Ogbonna then squares up to Lingard, accusing him of diving, and Lingard is pulled away from trouble by Lukaku.
36 min Mata walks past Lanzini on the right and curls a deep, inswinging cross that is knocked over the bar from a very acute angle by Martial.
35 min "Mate, I have actually watched every minute of every professional game of football around the globe in the last five years," says Ian Copestake. "I am now insane."
34 min Mata is booked for a late tackle on Noble.
32 min This is a breezy, fun game, which almost has the feel of a last-day-of the-season match.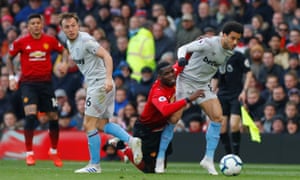 30 min If I was king, I would use VAR just for offsides. There's a definite right and wrong in those cases, and it wouldn't delay the game for long. You could have given the West Ham goal earlier in the game within 30 seconds.
29 min "Do the people that say we have the worst referees actually watch any of the other leagues? I've seen a lot of errors in Bundesliga and La Liga, even with VAR being used. Don't get me wrong, there have been some shocking decisions made by Premier League referees, but the amount of moaning is unbearable."
Yes, I love it when football folk say with absolute certainty that something is the best or worst in the world. Watched every minute of every professional game of football around the globe in the last five years, have you?
28 min Another good run down the left from Lukaku. This time he drills a flat pass to Dalot on the other side of the penalty area; he comes back onto his left foot and shoots miles wide.
27 min Lukaku breaks down the left and plays a careful pass back to Pogba, whose shot from the edge of the area is blocked by Balbuena.
24 min Lanzini's free-kick hits the top of the wall and goes behind for a corner. Snodgrass's outswinger from the left hits the unsighted Dalot and flies over his own bar for another corner. Snodgrass's second corner is flicked on by Felipe Anderson at the near post and flashes right across the face of goal. That was crying out for someone to arrive at the far post and roof one from two yards.
23 min Pogba is penalised for a high foot 25 yards from goal. West Ham have a few good free-kick takers; Anderson, Lanzini and Snodgrass are all around the ball.
22 min "Yet more incompetent refereeing," says Keith Sanderson.
20 min There were two issues with the penalty decision – whether it was a foul and whether it was in the area. Both were debatable, but I reckon it was the right decision. West Ham are hacked off, though, not least because they were robbed earlier with Felipe Anderson's offside goal.
Pogba scores! There was no slow run-up this time; he moved straight up to the ball and belted it into the net.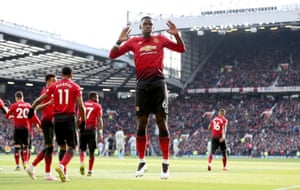 17 min Snodgrass is penalised for a challenge on Mata right on the edge of the area. It was clumsy, and on balance I think it was a penalty because he upended Mata without taking the ball.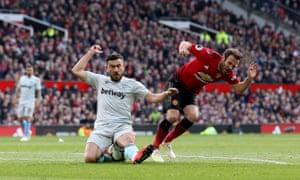 16 min Lovely move from Manchester United. Fred sprays a fine pass out to Lukaku on the right. He plays an angled pass back infield for Lingard, whose low ball flashes across the face of goal.
14 min West Ham have been the better side so far and look lively on the break.
10 min: Felipe Anderson has a goal wrongly disallowed for offside! Masuaku's cross from the left was headed down by Hernandez, and when the ball bounced up Anderson finished acrobatically from six yards. He looked offside and was flagged offside – but replays show the right-back Dalot was playing him on.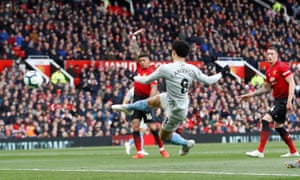 9 min West Ham are playing with Snodgrass in the centre – partly to defend against Pogba – and Lanzini on the right.
7 min It's been an open start to the game, although neither side has created anything worth shouting about in an internet liveblog.
4 min Dalot's cross deflects behind for the first corner. Mata's inswinger is half cleared to Fred, whose crisp shot from 20 yards is blocked.
3 min A slow start to the game. Paul Pogba is, as expected, playing a bit deeper for United alongside Fred.
1 min Peep peep! West Ham, in their light grey third strip, get the match under way. United are in red.
The players emerge from the tunnel on a chilly Manchester evening. Ole Gunnar Solskjaer, looking as happy as ever, high-fives Fred the Red.
Manuel Pellegrini explains Arnautovic's absence "Marko was sick during the week so he was not 100 per cent to play this game."
The 3pm kick-offs are coming to an end, and it's been another bad day for Neil Warnock's blood pressure
This is the best thing you'll read on Ole Gunnar Solskjaer
Ole Gunnar Solskjaer has rested three important players – Lindelof, Rashford and McTominay – ahead of Tuesday's trip to Barcelona. Marko Arnautovic doesn't even make the bench for West Ham.
Manchester United (4-2-3-1) De Gea; Dalot, Smalling, Jones, Rojo; Fred, Pogba; Lingard, Mata, Martial; Lukaku.
Substitutes: Romero, Lindelof, Rashford, Pereira, McTominay, Greenwood, Darmian.
West Ham United (4-2-3-1) Fabianski; Zabaleta, Balbuena, Ogbonna, Masuaku; Noble, Rice; Snodgrass, Lanzini, Anderson; Hernandez.
Substitutes: Adrian, Obiang, Diop, Fredericks, Antonio, Holland, Diangana.
Referee Graham Scott.
Good afternoon. Let's proceed to Sunday 18 February 1990. That was the day Manchester United won 3-2 at Newcastle in a brilliant FA Cup fifth-round match. After the game, they were drawn to play away to Sheffield United in the quarter-finals, and the BBC's Gerald Sinstadt asked two the goalscorers, Brian McClair and Danny Wallace what they made of the draw.
"It's another away tie," said Wallace, "so we're very happy with that." It was a striking comment, given the established concept of home advantage in association football. But at that stage, Alex Ferguson's United hadn't won at Old Trafford in over three months, so Wallace's comment was understandable.
Things are nowhere near as bad this season – 'Three weeks of excuses and it's still crap, ta-ra Ole' hasn't been seen on any banners – but Ole Gunnar Solskjaer's side also look more comfortable away from Old Trafford. All of their best results and performances under Solskjaer have come in London or Paris – no surprise, given their main attacking strengths are pace and movement rather than wit and craft.
The upshot is that what would normally be a favourable run-in, with four home games out of six remaining, is harder to appraise. Even this game at home to West Ham doesn't look like a sure thing. But United really need a win this evening – to maintain their challenge for a top-four place, to restore some order after a run of four defeats in five games, and to remind themselves that playing at home can be an advantage.
Kick off is at 5.30pm.