We will hear from Jürgen Klopp shortly. Hopefully, he is in better form than he was in training recently.
Right, I'm fed and watered. Thanks to John for the cover. Chelsea go into their home game against Newcastle on the back of four wins on the bounce in all competitions. No wonder Frank Lampard has a spring in his step:



I feel like we are moving in the right direction but I always get nervous saying it because it is a catalyst for over confidence. The last month was good and we had some good results. The international break always worries you slightly because will we forget the good things we were doing that made us get good results and we can't forget the fact we can do much more. It's competitive at the top of the league and I don't think the league has given itself and real form yet other than Liverpool who are deservedly right up there and City but the rest of us are trying to bridge that gap.
Mauricio Pochettino became a fan of Ingerlund, or those Tottenham players of his who were playing for them last week in the international break. Pochettino was pleased Harry Kane and Harry Winks were able to enjoy the winning feeling again. Kane, got three assists and a goal against Bulgaria, and Winks was handed a start in midfield.



After the disappointment on Friday, it was good for England, Southgate, the coaching staff and of course the players to feel that confidence," he said. It was fantastic for them to finish with a great result and to build their confidence. Of course, it was a tough game after Czech Republic and people were down. For our players, it continues the negative dynamic. I was hating watching the game thinking, 'We need to win, we need to win', putting on my England shirt! After Friday, it was tough but then Monday was better. The best medicine is to score, assist, feel the victory and for sure that is going to help our team.
Spurs host winless Watford on Saturday.



It's going to be tough. We will fight against us, play against us. We are our own worst enemy," he said. Then after the opponent. I am so happy, the players react in a very good mood. We have talked a lot, individuals and collective. I was talking with the staff in a very honest conversation as always in these situations, trying to find the best way. In the end our interest is Tottenham. Our objective is to put Tottenham in the place that Tottenham deserve to be.
Sid Lowe spoke to Manchester City's Welsh-sounding Spanish anchorman.
Right, I'm off to grab some lunch. I'll leave you with John Brewin while I'm gone.
Could this be the last Everton match Marco Silva takes charge of?
In case you missed it last weekend, Andy Hunter wrote a great piece about Silva's Everton woes, which worsened when his long-time assistant manager João Pedro Sousa left to manage Famalicão in Portugal. Famalicão's rise to the top of Primeira Liga is evidence of just how influential he was in Silva's team and how much he has been missed.
Here's the story on the postponement of Barcelona v Real Madrid:
We've not heard from Jürgen Klopp yet but one of the questions I expect he will be asked is whether he will bring Alisson back into goal at Old Trafford. I think he might be minded to stick with Adrián for this one. As good as Alisson is, Klopp may be tempted to keep things exactly as as they are for such a big match in case Alisson suffers from a little bit of ring-rustiness. Maybe it's less risky to bring him back in at Anfield, though the next game there against Spurs is hardly a routine one.
Five more men have been arrested over the racist behaviour which marred England's Euro 2012 qualifier against Bulgaria. The five men were detained at the First District police station in Sofia while a further five were searched at a different precinct in the Bulgarian capital, taking the total number identified to 16, a spokeswoman for the ministry of the interior told the PA news agency. Six supporters were arrested on Wednesday, with four already having been banned from attending any sporting event for the next two years and fined 1,000 lev (around £440). One individual faces a pre-trial hearing on Friday and could be remanded in custody.
Watford manager Quique Sanchez Flores claims there is no panic over the club's poor start to the season. Sanchez Flores was brought back to Vicarage Road last month after the team, then under the stewardship of Javi Gracia, claimed just one point in their opening four Premier League games. Yet the Spaniard claims it is far too early to be writing off his rock-bottom side after they have taken only two points in four league games since.
"I don't like to talk about that. This really is a big problem in football sometimes – [people] regard seasons finish in September-November," he said. "But to finish the season is in May. It's 30 games ahead. So it's impossible to think about what would happen. The only thing we can do is to work on the opposite side – not thinking that it was finished."
And with Watford taking on Tottenham on Saturday, he also had some nice things to say about Mauricio Pochettino, who has been feeling the pressure himself after the 3-0 defeat at Brighton:



Of course now is this is a difficult moment for him and for the team but for me he is best coach in the last four years. Everyone knows how tough Tottenham are. Just remember three months ago they were playing in the final of the Champions League.
Stephen Phone reminds us all that the M62 exists: "Why are they always on about the East Lancs Road? They know there's a big eff off motorway connecting the cities now right (although admittedly less handy for getting to Anfield)? I feel an early goal for the Pool tomorrow may open the floodgates. I just don't see Man Utd being able to dig in. But then again I always want an early goal yet somehow this Liverpool keep calm and just grind out the results. Almost as if they're mentally prepared better and secure if the knowledge that they are better than most other teams and will find a way. Cheerio!"
Let's be honest, you want some Rob Smyth or Scott Murray to read to get you in the mood for a Manchester United match. So, here's Rob on why Solskjær deserves more R-E-S-P-E-C-T at United:
And enjoy this Joy of Six by Scott Murray from 11 years ago on some great ding-dong battles down the years, including my personal favourite, Liverpool 3-3 Manchester United from 4 January 1994.
The FA has announced that AFC Wimbledon manager Wally Downes has been fined £3,000 and suspended from all football and football-related activity until 14 November, after admitting breaching FA betting rules. Downes placed five bets on matches between 30 November 2013 and 30 January 2014, and three bets between 16 March 2019 and 12 July 2019.
Sky are giving Manchester United v Liverpool a huge buildup: a "TWO DAYS TO GO" countdown clock, a divide-crossing commentator in Paul Ince and mention of just how many miles down the East Lancs Road Liverpool is from Manchester every other minute. It's going to be 0-0 again isn't it?
Leicester take on Burnley on Saturday and much of the talk before the game has been about James Maddison's visit to a casino after being released by England because he was ill. Criticism of Maddison is ridiculous but that's what happens when modern football meets Twitter. Brendan Rodgers has been defending the player:



The kid went away with the international team and took ill while he was away. He wanted to stay and hopefully be ready for the second game. But the England medical staff – which I can understand, as he had flu and they didn't want that to spread to his teammates – decided it's best for him to leave the camp. So he leaves, gets some tablets with our guys at the club, then he feels better. He watched the game at home on his own on the Friday and then goes out at half-time – probably he'll make better decisions in his life but he went to a casino on his own to sit and watch the second half by a poker table. The suggestions are he left England purposelessly and then goes to a casino but that's totally not the case at all. But his eyes have been opened now to the wider world in terms of what he did. He knows in hindsight he's made a mistake.
Some big news from Spain, where the first Clásico of the season, which had been scheduled to take place at Camp Nou on 26 October, has been postponed because of fears of civil unrest amid pro-independence protests in Catalonia. La Liga organisers had proposed that Barcelona v Real Madrid be moved to the Bernabéu, an idea that was not received well by the Spanish champions, but the match has been put back to a later date now. We'll have a story on this shortly from our Spanish correspondent, Sid Lowe, who had hinted earlier that a more likely date for the game to be played was in the week before Christmas. The clubs must agree a new date for the match to take place before Monday.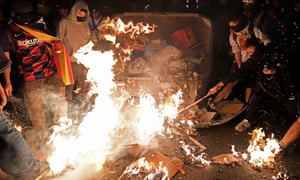 Of course, it was Newcastle United's Matty Longstaff who inflicted the 1-0 defeat on Manchester United before the international break. Steve Bruce says he's minded to start Matty Longstaff again when Newcastle travel to Chelsea.



I don't think I've witnessed as good a debut, not just because he scored the goal that caps it off but it was the whole way he played in the whole game. It was terrific. Well, you can imagine what the kid's been like – it's like a kid in a sweet shop. It's been quite refreshing for all of us to witness the interview. That's why I picked him. His interview beamed out of the television, what he's all about. It brought a refreshing humility to us all again and it was a wonderful debut from the kid.
The Longstaff brothers are what this world needs right now! If you want more heartwarming words on the Geordie duo, read this piece by Louise Taylor, who spoke to them recently.
Solskjær also confirmed that David de Gea is not likely to feature against Liverpool but his injury is not as severe as they thought it might be.



I don't expect him to play but it wasn't as bad as feared. When I saw the game I thought he would be out until the next international break, because we've had some long-term muscle injuries.
On the subject of Paul Pogba being photographed talking to Zinedine Zidane, Solskjær had this to say:



He's recovering, he's mending, he's been on a few days off working but he's away from here, and it's a pic, when you're at Manchester United I don't have any problem with that at all. Paul is part of our plan, he's been playing through the pain barriers and has been criticised left, right and centre. But when he came back [against] Rochdale and Arsenal he wanted to play — was too painful, he had that scan, he's on the way back.
Paul Pogba is definitely out of the match with an ongoing ankle issue but Anthony Martial and Aaron Wan-Bissaka could return against Liverpool with question marks hanging over the likes of Jesse Lingard, Phil Jones, Luke Shaw, Diogo Dalot and Mason Greenwood.
Ole Gunnar Solskjær has been speaking in his press conference to preview the match against Liverpool on Sunday. He was asked a question about the direction the club is taking under him and he was honest enough to say that by trying to bring through younger players, the club is suffering at the moment but that he doesn't think the Manchester United job is one he can't handle.



No, I've never felt it's too big for me. I'm confident in what we're trying to do and with my staff, I've been so impressed. The improvement is there to see. We need to start winning games, start scoring goals and we need to create more chances because at the back we've looked solid. But we haven't been adventurous enough and taken enough risks. The best teams around take more risks and more runs in behind. Maybe the boys when they lose confidence they play safe and it's my duty to say it's not safety. I speak to Ed [Woodward] loads of times and we speak regularly. We've spoken so many times. We do have a plan and we have made some decisions in the short-term that would harm us, but in the long-term would benefit us and that's part of the plan. Results are always the main thing and we can move forward quicker with results and performances. I am sure we will get there. But there's planning for the next transfer window and summer transfer window.
In the Scottish Premiership, Celtic have the chance to leapfrog Rangers at the top of the league when they play Ross County on Saturday before Hearts host Rangers on Sunday. Rangers will be on a high after Steven Gerrard and striker Alfredo Morelos scooped the manager of the month and player of the month awards for September. Gerrard spent the international break turning out for Rangers legends against Liverpool. Rangers legend?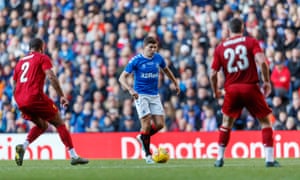 Bournemouth manager Eddie Howe has had his say on the racist abuse suffered by England's players in Bulgaria. Cherries striker Callum Wilson was the subject of abuse in Sofia but Howe believes Wilson has not been affected by it:



It was incredibly disappointing to see. I watched it live, It was a tough watch. You could sense what was happening. Callum and the rest off the England players handled it with real class. Callum's fine. He's a strong character. Unfortunately it's nothing new for him to have to deal with. Mentally, he's fine.
Aston Villa and Brighton meet on Saturday having both enjoyed morale-boosting wins before the international break. Villa thrashed Norwich 5-1 at Carrow Road, while Brighton put a discombobulated Spurs to the sword with a 3-0 home win. Villa will be missing midfielder Jota, who has had surgery to repair a hernia, while Brighton have a healthy squad to choose from after Leandro Trossard and Shane Duffy stepped up their recoveries and are now available after injury. Villa manager Dean Smith says he is wary of the threat posed by Seagulls teenager Aaron Connolly, who scored twice against Spurs:



We'll have to watch out for him. He's a player with huge potential, he's certainly hit the ground running with his first start and two goals against the Champions League finalists. Our defenders will know enough about him certainly for the game on Saturday. This league can punish you in the flash of an eye. It would have been very easy for me to walk into the dressing room after the (Norwich win) and say, 'right, I'll see you on Friday'. No, it was, 'keep to the plan. Sunday, Monday off, work Tuesday, Wednesday, Thursday, Friday'.
Meanwhile, Villa striker Wesley has been enjoying some sightseeing on his time off:
There's no doubt that Manchester United v Liverpool is the weekend's biggest game but not since the mid 1980s has the gap between the two sides been weighted in Liverpool's favour as much as it is before Sunday's 4.30pm kick-off. Leaders Liverpool are 15 points clear of 12th-placed United after only eight games. Ed Woodward has admitted that the club's recruitment policy has been dysfunctional since Alex Ferguson's departure.
Both clubs have US owners. David Conn has done a forensic job of investigating the Glazers' running of Manchester United and compared it to the job being done by Fenway Sports Group at Anfield. If you're a United fan, it will get your blood pressure up:
Hello. So the Premier League returns after the international break – and what an intriguing weekend we have in store. The results two weeks ago have left so many questions lingering. How will Manchester City respond after their shock defeat by Wolves? Will Liverpool see off Ole Gunnar Solskjær at Manchester United? Will Marco Silva be sacked if Everton don't beat West Ham? Can Brighton build on their 3-0 win over Spurs? And Mauricio Pochettino's side aren't so low on confidence that they will lose at home to rock-bottom Watford, are they? Our writers have set it all out for you in much more comprehensive style in our Premier League weekend preview piece here. Go on, have a read:
I'll bring you the injury news and more as the day's press conferences swing into action where I'm sure some managers will have something to say about the appalling racist abuse of England's players when they played against Bulgaria last week, too, as well as their empowered and hugely impressive response to it.
The full list of fixtures are as follows:
Saturday (3pm BST unless stated otherwise)
Everton v West Ham (12.30pm)
Bournemouth v Norwich
Aston Villa v Brighton
Chelsea v Newcastle
Leicester v Burnley
Tottenham v Watford
Wolves v Southampton
Crystal Palace v Manchester City (5.30pm)
Sunday
Manchester United v Liverpool (4.30pm)