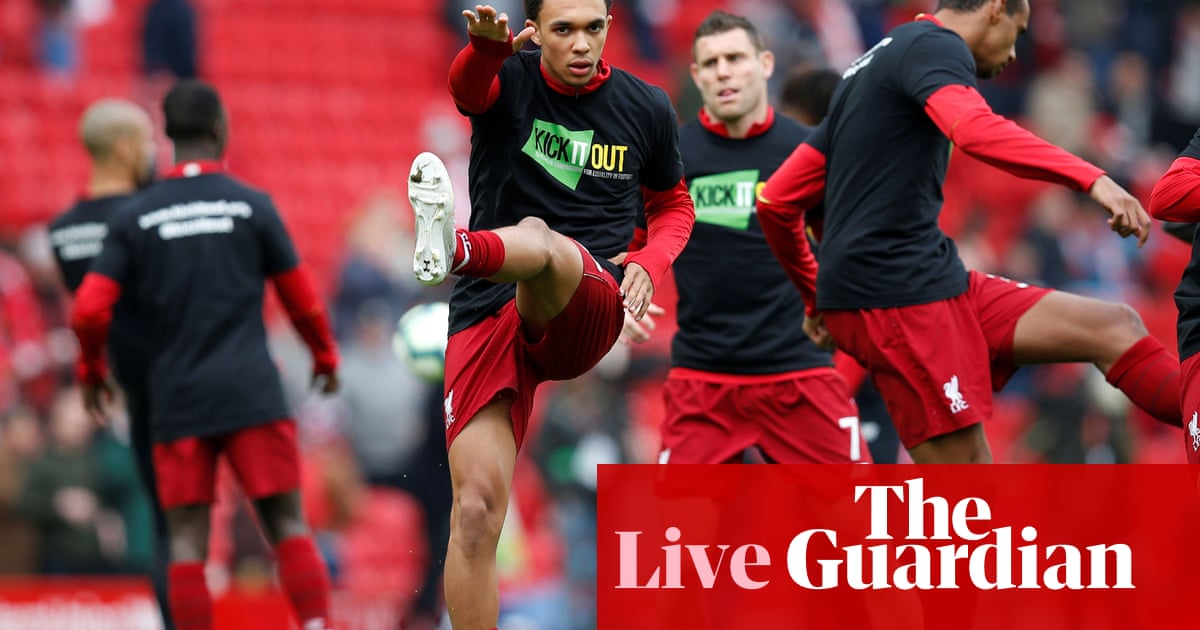 "I admire Peter Oh's wordplay," says Matt Dony, "but I'm a simple man who subscribes to the Martin Johnson school of committed defending, c. 2003. 'If you see someone in a white shirt, hit them.'"
Didn't his team wear white?
Pre-match interviews
Jurgen Klopp
"We know we are in a period of the season where there are no more interruptions – just game after game after game, and that's good. It's an intense period and it starts against a proper opponent. All the midfielders are looking good but for this game we thought this was the right starting line-up."
Mauricio Pochettino
"The team is used to playing with three at the back, and we believe it's the best way to play today. We'll see if we are right."
"The duck's done barking; the turtle's sniffed the air; and yet still it's squeaky bum time," says James Debens. "Fabinho needed to start instead of Milner."
I'm sensing nerves.
"If you ask me, the Liverpool defence's job is simple," says Peter Oh. "Keep the great Dane on a tight lead, harry Kane constantly, and always remember, less is Moura."
Chelsea have gone 2-1 up in injury time, and Neil Warnock looks like he is about to go postal.
"My dear Rob," writes Ian Copestake. "Can I apologise in advance for the sheer volume of emails you will now be getting from Liverpool fans getting their gammon on about Fabinho being on the bench and our midfield being that conservative midfield beloved of no one but our otherwise pretty damn fine manager?"
Mrs Doyle was a football fan, too.
Chelsea have scored a late equaliser at Cardiff, although it was painfully offside. You can follow the last few minutes with Daniel Harris.
Liverpool (4-3-3) Alisson; Alexander-Arnold, Matip, van Dijk, Robertson; Milner, Henderson, Wijnaldum; Salah, Firmino, Mane.
Substitutes: Fabinho, Lovren, Keita, Lallana, Mignolet, Shaqiri, Origi.
Tottenham Hotspur (3-3-2-2) Lloris; Alderweireld, Sanchez, Vertonghen; Trippier, Sissoko, Rose; Eriksen, Alli; Lucas Moura, Kane.
Substitutes: Son, Wanyama, Llorente, Foyth, Davies, Skipp, Gazzaniga.
Referee Martin Atkinson.
Hello. In their 2000 single Don't Falter, a jaunty cogitation on love's capacity to influence serotonin levels, Mint Royale featuring Lauren Laverne opined that 'You must decide to risk your heart for love to find you.'
Liverpool fans know the feeling. They have risked their heart and their soul this season, and their sanity may yet follow. The more you invest, the more you stand to gain – and to lose. Whatever happens, the next six weeks are going to be the most heightened experience for all Liverpool fans. They will experience euphoria and desolation at different times. But by 5pm on 12 May, the final day of the season, only one of those feelings will be available.
All Liverpool can do is keep winning games and assume/hope/pray that Manchester City will drop points as the fixtures pile up. Jurgen Klopp's side could well have used up all their margins for error in that run of four draws in six games, and today's match against Spurs at Anfield certainly feels like a must-win game. If Liverpool don't win today, City will stay top and have a game in hand.
I still think Liverpool are brilliant value at 9/4 to win the title, because they have the easier away games in the run-in, but Spurs are such dangerous opponents. The match here last season was a madcap classic, which ended 2-2, and neutrals would like something similar today. But that's easy for us to say, because our hearts aren't at risk.
Kick-off is at squeaky-bum time, also 4.30pm BST.