79 min: Samuelson's cross drifts behind, and without the fortune of Mead for Arsenal's third goal.
77 min: That goal came as against the run of play as it possible to be. It barely matters, but Arsenal's clean sheet is gone. Credit Daniels for her skill on the ball.
The striker steps up and makes no mistake. A classic, top corner penalty, confidently struck.
Veje is beaten by Daniels's skill, and brings her down.
74 mins Arsenal make a second sub. Samuelsson on for Evans. Danielle Carter came on before, too.
73 min: Liverpool manager Vicky Jepson looks stern on the sidelines. Her team has had to face Chelsea and Arsenal in their last two games and has not been equal to the task.
71 min: At this point, Arsenal are looking ahead to next week and Birmingham City. Liverpool are looking to next season.
69 min: Preuß has had a most forgettable game while Peyraud-Magnin in the other goal, could have played this game in her overcoat. She has had very little to do.
Arsenal scoring at will now. A cross from the left, and Bloodworth's header comes off a defender and wrongfoots a helpless Preuß.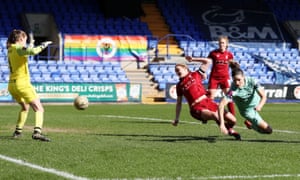 Bloodworth strides forward, Miedema drops deep, and plays the ball to Mead, who attempts a cross that skews into entirely the wrong direction she meant but into the net. Preuß, again, watched that drift in.
61 min: And now Beth Mead is down, after crashing into the hoardings in the style of Babajide in the first half. Looks like a knee problem, but probably just a bang.
60 min: A chance for Beth Mead, but she ends up misjudging her angles. Meanwhile, Veje has gone down with what looks an ankle problem. Babajide and her clashed on the sideline.
59 min: This has been a thankless afternoon for Liverpool. They are essentially playing to keep the score down. Arsenal have barely been out of second gear. They almost got a third. Miedema plays provider for Little, but she cannot stay on her feet.
57 min: Arsenal on the attack now, and down the right. Williamson down the flank. Her cross is into a dangerous area but not where Miedema is.
55 min: Liverpool on the attack. But as ever, it comes to very little. Courtney Sweetman-Kirk has received very poor service.
53 min: Miedema has space for a shot, but cannot dig the ball out of what looks a most uneven surface. No wonder Tranmere don't play it on the deck.
50 min: Miedema and Little combine on the left. Veje's ball drifts in, and Preuß loses the flight of the ball. Eventually, Van de Donk heads over. A let-off for Liverpool.
48 min: Better from Liverpool as Daniels goes on the attack though is stopped in her tracks. Bloodworth sets up an attack, but Miedema, still hunting her goal, is not on the same wavelength for now.
46 min: Away we go. Arsenal will be happy to see this one out with the sterile domination with which they saw out the first half after those quick goals.
The second half is imminent, as the power ballads ring out from the Prenton Park PA.
A look again at that second goal, and the confusion seems to arise from the goalkeeper – Anke Preuß/Preuss – acting as if the ball had not come off her into the net after she was so slow to react. It looked so implausible.
45+2 min: This could barely have been easier for Arsenal. Credit Liverpool with their determination in keeping the scores down, but Arsenal are striding to the top. The players leave the field to Daniel Bedingfield's "I Gotta Get Through This". That song came out 18 (eighteen) years ago.
45 min: Arsenal passing their way into a comfortable break. There are two minutes added on. Veje and Miedema, who has been a little quiet, combine, but Little cannot make anything of their good work.
43 min: Arsenal are playing with a cigar on here. Liverpool cannot get close to them, though are defending solidly enough. Outside their area, Liverpool are miles off.
41 min: Veje escapes down the left on an overlapping run. Another penalty shout, but it looks like a Liverpool hand-to-ball again. The ref didn't notice it, but that may be no guide considering a couple of their decisions.
40 min: Quinn, who looks to be fully recovered, plays it forward. Liverpool close off the danger but seem incapable of finding their forwards. They have been passive.
38 min: Liverpool launch a free-kick. Quinn takes a hell of a whack from Liverpool's Babajide. Again, the referee is a little slow to recognise the correct decision. Thankfully, Quinn is able to continue.
35 min: A foul on McCabe sets up a free-kick chance for Arsenal. Liverpool scrub that clear before Bloodworth fails to keep her shot down.
34 min: The Arsenal fans making themselves heard. Are their team really the greatest team the world has ever seen? Almost certainly not, but they have this game in their grip.
32 min: Arsenal attack down the left through McCabe. There is a brief penalty claim as the ball bounces off a stray hand. It was ball-to-hand, though.
30 min: Here, though, is a Liverpool attack, if not much of one when Linnett's shot is wayward.
29 min: Liverpool have not mounted an attack since those goals. The stuffing knocked right out of them.
27 min: An injury to Liverpool's Leigh-Anne Robe, who looks to have a muscle problem.
26 min: Easy street for Arsenal here. Liverpool's defence, and goalkeeper have handed the game to them. They are already on course to go back to the top.
23 min: That was a bizarre moment. The delay between the ball going in and into the net was ten seconds or so. It was a goal all the way but nobody seemed to notice.
Well, what happened there? Miedema's cross, and Mead hits a low shot. The ball looked as if it hit the side-netting, but in fact it came off Preuß and into the net. A real delay as only Mead celebrates. The ref slowly comes to the realisation it was a goal.
21 min: Arsenal just stepped it up at will there and got their goal. That showed the gulf in class between the teams.
Mead and Miedema link, and the ball goes out to the left. McCabe's cross is excellent and the finish is even better from the Arsenal captain, Kim Little
18 min: Arsenal spring into life. Beth Mead and Van de Donk combine, and Miedema was lurking. A hurried and harried clearance saves Liverpool for the moment, but the danger was clear.
16 min: England boss Philip Neville is sat in the stands, and alongside the Guardian's very own Simon Hattenstone.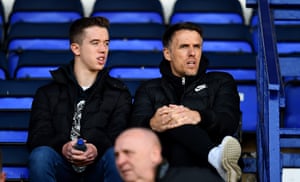 14 min: Liverpool attempt to put a passing move together but are forced to go back to their goalie. Arsenal's shape remains strong.
12 min: Liverpool slightly gaining in confidence? Arsenal not quite so assured after that scare. They do seem a little over-deliberate.
10 min: Slight wobble from Gunners goalie Peyraud-Magnin, who fails to collect a set piece and then charges out with the ball at her feet in the style of Jens Lehmann.
8 min: Arsenal settling into their rhythm now. Williamson strides forward. Van der Donk involved before Beth Mead has a chance, but not much more than a half-chance. The pattern of the game is set, you'd say.
6 min: Liverpool's Babajide has suffered a freakish injury. She's in some pain, having crashed into an advertising hoarding. She has left the field, holding her hand.
4 min: Close! Kym Little had a great chance. That was begging for her, but she skews wide.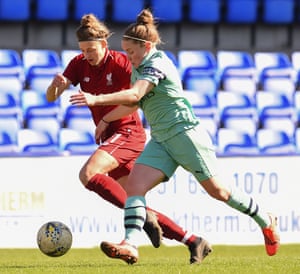 2 min: So far, Liverpool have dominated possession. Arsenal sitting back and lying in wait?
1 min: Prenton Park is not exactly full but a few game Gunners getting the chants underway.
Liverpool get us underway. They have a huge task on their hands.
The teams take to the Prenton Park pitch, Gerry Marsden blaring in the background.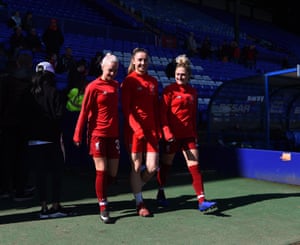 Joe Montemurro. Arsenal's manager, speaks: "It's a different type of pressure. We haven't been in this situation for some time. (On Miedema) She's an important part of everything we do. The stats show Viv's quality; we hope she has another great game."
Liverpool manager Vicky Jepson speaks: "I think we can take positives from last week's game (against Manchester City). Obviously, Arsenal have some great players. We have to take the sting out of their attack. Hopefully, we can dig deep and get something out of it.
On Vivianne Miedema: "Big challenge for Amy Rogers. Sophie Bradley, a fantastic captain, is alongside her. Hopefully, they can stop Miedema scoring."
And here's the Liverpool team.
Here's the Arsenal team for today. Still waiting for Liverpool's…
And anyone who can make head or tail over whatever went on here is a better man than I. The image of a minibus of charged-up ultras in downtown Kingston, Surrey at 8am is, well, bizarre.
It's not been all good news, however.
It has been a big week for women's football.
Suzanne Wrack analyses that deal here.
Looks like Arsenal fancy this one.
A glance at the WSL fixture list will tell you that the final round of matches sees Arsenal take on Manchester City, a potential blockbuster to remind of Anfield 1989 for those of a Gunner persuasion. The aim now for Arsenal is to climb clear of City, who do not play this weekend, so that final game is a celebration rather than a nail-biter.
This, then, counts as a game in hand for Arsenal; they have two on City. They can nudge a point clear with a win on the Wirral today. Their midweek win over Bristol City settled the nerves, while City went through the mill in a 4-3 win at Reading. Vivianne Miedema, the record-smashing goal machine, scored a hat-trick, and is the player Liverpool must stop to have a chance.
Liverpool, meanwhile, were on the end of a 4-0 thrashing by Chelsea in midweek. They are in no danger of relegation, which sadly is going to befall Yeovil, who have all sorts of problems, but it has been a disappointing season for them.