There's not much left to say. It wasn't an epic match – but it was an epic occasion, and we'll be talking about that first period of extra-time forever. In the end, just as at Italia 90, it ended in the cruellest possible way.
For the last two and a half weeks, England's euphoric Euro 96 campaign has been our entire world. And like that, it's gone.
Terry Venables runs straight over to Gareth Southgate, whose life has just taken the most horrible turn. Jurgen Klinsmann also limps over to console him – and then Tony Adams drags him over to start a lap of honour before beckoning the rest of the England team to join them. There are no tears, as far as I can tell, but a few of the players are close. A lot of them look in shock.
It's over. Moller smashes his penalty down the middle and then mimicks Gascoigne's peacock celebration. England are out in the most heartbreaking circumstances, again.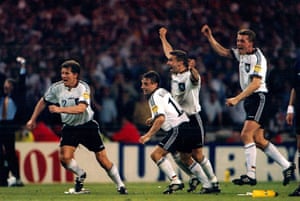 KOPKE SAVES FROM SOUTHGATE! Germany 5-5 England It was a tame penalty, and Kopke pushed it away as he dived to his right. Now Germany are one kick away from putting England out of Euro 96.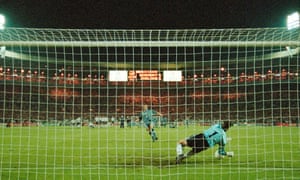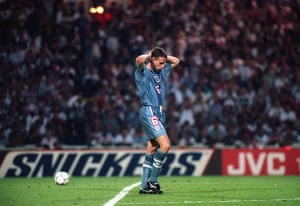 It's Gareth Southgate in fact…
KUNTZ SCORES! Germany 5-5 England An unbelievable penalty from Kuntz, who clips it high into the net. Now it's sudden death. Who's next for England? It can't be Ince, surely. You'd have to think it'll be McManaman or Anderton.
SHERINGHAM SCORES! Germany 4-5 England Sheringham curls it into the top corner as well! If Stefan Kuntz doesn't score, Germany are out.
ZIEGE SCORES! Germany 4-4 England Yet another great penalty. Seaman went the right way but it was right in the corner. The standard is stratospheric.
GASCOIGNE SCORES! Germany 3-4 England A majestic penalty from Gascoigne, steered into the top corner. He celebrates with a peacock pose and tries to whip the crowd up even more.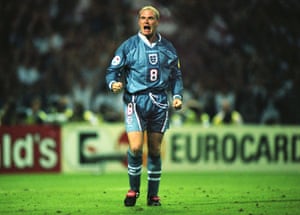 REUTER SCORES! Germany 3-3 England Seaman got hands on that! He's furious with himself for not saving it.
PEARCE SCORES! Germany 2-3 England Pearce completes the exorcism of 1990, sending Kopke the wrong way. This time he celebrates with a modest thumbs up rather than the full Psycho of Saturday.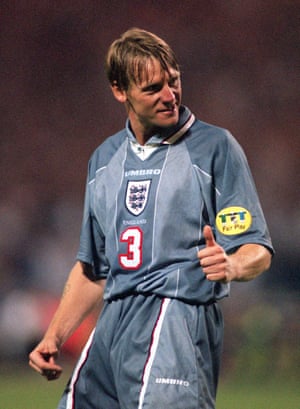 And now it's Stuart Pearce…
STRUNZ SCORES! Germany 2-2 England Strunz, who came on right at the end of extra-time, places a brilliant penalty into the top-left corner.
PLATT SCORES! Germany 1-2 England I was worried about Platt but he has tucked his penalty away, just as he did in Turin six years ago. Kopke went the right way, diving to his left, but the ball had too much height for him to reach. Good penalty.
HASSLER SCORES! Germany 1-1 England A terrific penalty, dragged right into the bottom corner. Seaman went the right way but had no chance.
SHEARER SCORES! Germany 0-1 England
Nerveless stuff from Shearer, who curls it high to the right. Paul Ince, by the way, can't watch. He is sitting down in the centre circle, looking away from goal. He looks like he's about to vomit.
England will go first, as they did on Saturday.
"Hi Rob," says Ruth Purdue. "Hope you're well. What is England's record with penalty shoot-outs?"
They've won one and lost one. Germany/West Germany have won three and lost one. Of course, those records include the Italia 90 semi-final, when Pearce and Chris Waddle missed and England were beaten.
Some England players look more relaxed than others. Shearer looks fine, Gascoigne is chatting away with Venables. It looks like he's demonstrating what happened with that agonising near miss in the first period of extra time. Jamie Redknapp, most of the back-up players in fact, look relieved that they won't be facing the firing squad.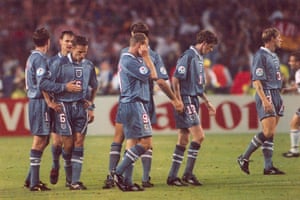 We know four of the England penalty takers: Shearer, Platt, Pearce and Gascoigne, in that order, all scored against Spain. Robbie Fowler was down for the other one on Saturday. I suppose the man he replaced, Teddy Sheringham, will take the fifth tonight.
For the second time in five days, England's hopes and dreams depend on a penalty shoot-out. It's a great way to win a game, let's just say that.
120 min Dieter Eilts, who has had an amazing game defensively, makes one last intervention. A bouncing ball from the right kicked up towards Platt, who improvised a neat, speculative header over the defence. Anderton was just about to reach it in the area when Eilts came across to thigh the ball away and run it to safety. The whistle had gone for offside against Anderton, but nobody knew that at the time.
119 min It's a poor corner, cleared at the near post.
119 min England get a very generous corner on the right. Platt was already apologising to his team-mates for cocking things up when the decision went in England's favour. Matthias Sammer asks the referee what the feck is going on. We'll never hear the end of it if England score from this. Before the corner is taken, Thomas Strunz replaces the injured Freund.
118 min Both teams are still trying to win this. Kuntz's reverse pass from the right just runs away from the unmarked Bode in the area.
116 min Another German injury! It's Freund who is struggling now, after a challenge from Anderton. He's stretchered off, so Germany will be down to 10 men until they can sort a replacement.
115 min: CHANCE FOR McMANAMAN! Sammer, deep inside the England half, gave the ball away for one of the few times tonight and England charged forward on the counter-attack. Gascoigne, McManaman and Shearer combined before Shearer guided a through pass down the inside-right channel.
McManaman got to it first on the edge of the area, just ahead of Eilts, but his first touch took him slightly away from goal. The angle was tight and he could only hit a weary low shot that was easily held by the tumbling Kopke. The break was so fast that McManaman had no support, so he had to go for goal.
114 min: INCE HEADS OFF THE LINE! I think Seaman had it covered, but Ince didn't take any chances. Moller's deep corner from the left was pulled down on the thigh by the substitute Bode, who hooked it back towards goal on the turn. Ince, standing in front of Seaman in the six-yard box, used his loaf to get the ball clear.
113 min Compared to the first half, the second period of extra-time has been an oasis of calm. I wouldn't say either side has settled for penalties, but they look like they have accepted it's the likeliest scenario.
110 min Another Germany substitution: the limping Thomas Helmer is replaced by the utility player Marco Bode. Germany have had such bad luck with injuries throughout this tournament, and now they have two players – Reuter and Moller – suspended from the final should they get there.
107 min Southgate plays a nervous, underhit pass across the face of the England area. For a split-second it looks like Kuntz is going to get there first and move through on goal – but then Adams throws himself at the ball to boot it clear.
107 min: ZIEGE MISSES AN EXCELLENT CHANCE! Dear lord, make it stop. This is too much to bear. Ziege, this strutting left-back from Bayern, zips infield and finds Moller in the D. He controls the ball and plays a return pass to Ziege, who gets on the inside of Southgate but pokes the ball wide of the far post from 10 yards. That was another great chance.
106 min England begin the second period of extra time. This is it: 15 minutes to score a Golden Goal or it will be penalties, just as it was at Italia 90.
Still no sign of any England substitutions. I'd be really tempted to introduce the youthful dynamism of Robbie Fowler or maybe Steve Stone. It would give the crowd a lift as well.
Half time in extra time: Germany 1-1 England That was one of the great periods of extra time.
105 min Shearer runs Babbel down the right – it's been a brilliant contest between those two – and crosses low. Sammer's clearance comes to Anderton, who drags a volley well wide from 25 yards.
104 min Another fine interception from Adams, who has been immense. England race down the other end, where McManaman's curling cross is again just in front of the stretching Gascoigne in the six-yard box. That was nowhere near as close as the earlier chance. Gascoigne's fitness was criticised earlier in the tournament but he looks England's liveliest player at the moment.
102 min A couple of uneventful minutes. It's as if both teams are having an unspoken timeout after that astonishing start to extra-time.
101 min "Hi Rob," says George Wright. "I'm only 12 and yet to get any sense of perspective, which I'm sure will come any day now. It's so tense that I've already cried once and I spent the break before extra-time playing an aggressive game of wall-ie in my friend's back yard to let off some steam."
100 min I've never seen anything like these last few minutes, never in all ma puff. Replays show what happened with Gascoigne's chance. He was in front of Sammer and Freund – but then he half stopped, because he thought Kopke was going to get a touch on the ball. Had he kept going he would have run the bal into the net, and he'd probably still be celebrating in the dentist's chair come the new millennium.
99 min: HOW DID GASCOIGNE NOT SCORE THERE?! Gascoigne is a stud's length away from winning the match! He started the move by winning the ball off Hassler on the England left. Anderton then gave it to Sheringham, who drove a crossfield pass towards Shearer on the right of the area. He pulled away from Babbel, watched the ball onto his right foot and belted a volley back across goal. It bobbled past the diving Kopke in the six-yard box, leaving Gascoigne in front of an open goal – but somehow he missed the ball as he lunged with his left foot. I have no idea what happened. It was an open goal, and he seemed certain to score. Gascoigne ended up in the net, face down. If only the ball was with him. Nobody scripts this stuff, nobody.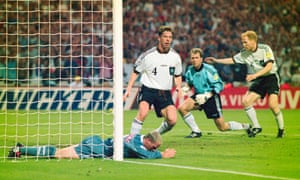 97 min Germany burst forward again. Hassler finds Moller, whose cross is brilliantly headed away by … McManaman. This is incredible. A chess match has suddenly morphed into basketball.
97 min Having seen a replay, I think that probably was a foul by Kuntz, who dragged Southgate out of the way as the corner came in. It was still a brave decision from Sandor Puhl, because I don't think anyone spotted it at the time. Kuntz's lack of complaint probably tells a story.
97 min: KUNTZ HAS A GOAL DISALLOWED! I thought England were out of Euro 96. Moller's inswinging corner from the left was headed into the top corner by Kuntz, despite Gascoigne attempting to punch it clear on the line. Time stood still … until everyone realised the referee had blown for a foul by Kuntz on Southgate. That looks really soft to me – I don't think Luntz did anything wrong. "The country's pulse rate," says Barry Davies, "must be beyond natural science."
96 min: GOOD SAVE BY SEAMAN! This is heart-stopping stuff. Moller gets a lucky ricochet off Ince in his own half and surges into a very big gap. It's a three-on-three break, with the central player Adams trying to hold things up for as long as possible. Eventually Moller gets to within 25 yards of goal and hammers a rising drive that Seaman tips acrobatically over the bar.
95 min And now Anderton's snapshot is blocked by Babbel. So much for the Golden Goal promoting caution. Both teams are swinging haymakers all over the place.
94 min Now Germany threaten to win it! Eilts, on the left wing, stabs a pass inside to the marauding Helmer. He looks up and absolutely leathers a cross that flashes across the six-yard box, just in front of Kuntz.
93 min: ANDERTON HITS THE POST!!!! England were this close to winning the match after just 80 seconds of extra time. Platt played an excellent pass infield to find McManaman in space on the right of the area. His pull-back was missed by the diving Kopke and reached the unmarked Anderton, who screwed it off the near post and back into the arms of Kopke! That is unbelievable.
The ball from McManaman was slightly behind Anderton, which is why he hit it onto the post rather than into the net. But had he put it in front of Anderton, Kopke would have got to it. Sammer punches the air in the direction of the linesman – he was busy appealing for offside against McManaman, which is why Anderton had so much space in the middle.