Right then – thanks all for your company and comments. Enjoy the rest of your weekend and join Rob Smyth for Liverpool v Spurs.
Seeing the equaliser again, the linesman was behind Willian, who took the corner – though he did himself no favours by jockeying along in the same direction.
It is my sad duty to report that Warnock is going to wait to give his interview until he's calmed down. Thoughts and prayers with us all at this distressing time.
At full-time Warnock went and stood on the centre-circle, facing down the officials – eee, it were dead scary – then when they were good and ready, they strode off right past him as though Warnock were Brexit and the officials were the EU. I believe they call this a metaphor.
Cardiff played well today, and will be fairly upset with how things panned out: Chelsea's equaliser was exceedingly offside and Rudiger could well have been sent off. Chelsea, meanwhile were and are rubbish, but perhaps that win will inspire to be less so. They stay sixth, a point behind Spurs and Man United, while Cardiff stay third bottom, five points behind Burnley, who they play next weekend. They've got a game in hand, but that's against Man City, so if they don't win at Turf Moor, they're in significant trouble.
Well that was a lot of fun in the end.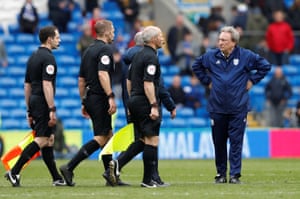 90+8 min The first half was nonsense, but the second has been terrific.
90+7 min Bennett goes over the wall and inside the near post, but can't get the power to mither Kepa.
90+6 min Again, Morrison is yanked, this time by Giroud – it's outside the box, but the ref still isn't arsed – then Cardiff with a free-kick, 25 yards out, just right of tHe D…
90+5 min Sky have apologised for any words we might have seen Warnock mouth. I cannot wait for his press conference.
90+4 min Will it be three? Hazard sees Gunnarsson coming in the centre-circle, feinting left, back to his man, then twisting right and skating away. He sees Barkley chugging up alongside him, so rolls him in … and Barkley skews a shot wide of the near post.
90+2 In all the fuss, I forgot to note that there'll be seven minutes of added time.
Sarri is a genius! Hazard holds up on the right edge of the box, lays back to Azpilicueta, and he finds Willian who swerves a cross to the back post … where Loftus-Cheek is all over Peltier to smash home a header! I am not certain Neil Warnock respects the democratic will of the officials.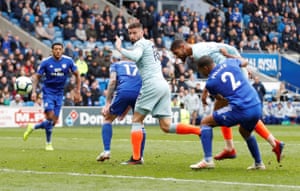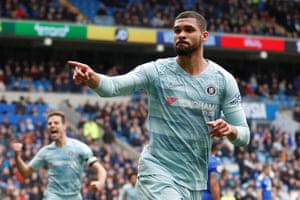 89 min Warnock is still waving like the air-traffic controller like Jimbo and Jet Set. He sends on Mendez-Laing, who looks like he's got a coathanger down his top, for Niasse
86 min A long ball, and Zohore is in! Kepa charges out, Rudiger pulls Niasse down … and the ref books him! On the touchline, Warnock is doing his absolute nut – it's almost as if Brexit didn't happen!
85 min Zohore replaces Niasse, then Ralls is booked for a foul on someone – I didn't see who.
Oh Neil Warnock is going to love that! Alonso flicks on the corner at the near post and in the middle, Azpilicueta and Loftus-Cheek are about a fortnight offside, but Craig Paulson and the boyz don't notice, so Azpilicueta heads home and there we go!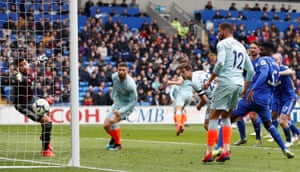 84 min Lovely from Hazard, nudging in to Kovacic who slides a return to the line; Hazard crosses low and Morrison does really well to get it behind without scoring an own-goal.
82 min "It's one thing to protect young players," emails Errol Thomas. "It's another to hold them back when they're clearly ready. Hudson-Odoi is in irrepressible form. Surely he's exactly the player you'd call on when chasing a 1-0 deficit with all conventional measures proving futile. Hugely disheartening."
I can see why he sent Giroud on – though not for Higuain. The problem was that Sarri had already expended a change getting his best player on the pitch, and another replacing a midfielder with a midfielder.
80 min Arter is replaced by Ralls.
78 min "We want Sarri out!" chant the Chelsea fans, and I'm not going to lie: I feel them. This is abject and pathetic, and a lot of that is his fault. He loves 4-3-3 more than anyone has ever loved anything – Romeo and Juliet they never felt this way I bet.
77 min I give up. I really do. With Chelsea needing a goal, Sarri sends on a striker – for a striker! Giroud replaces Higuain, and I'm pretty sure that whatever the result today, 4-3-3 will be the winner.
75 min Oh look! There's Higuain! He's here! Hello! He takes the ball outside the box, on its right corner, shlurries inside, and whacks a curler than Morrison does really well to get a head on – that was going close.
74 min Hazard sashays past Peltier and finds Willian in the box, who darts outside Morrison and drags a cross-shot just wide.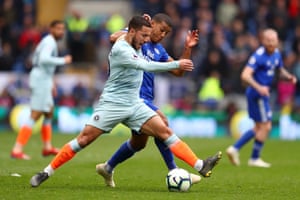 73 min Why doesn't Sarri get another striker on? I believe they can be quite useful when a team is looking to score a goal.
69 min That Allez Allez Allez song: do the supporters who introduce it to their club's canon think "By jove I think I've got it! Wait til the lads hear this brainwave!"
68 min Barkley curls a ball into the box and Morrison slips, conceding a corner. Loftus-Cheek takes it short, goes for the return, and dearie me, he's offside.
65 min Better from Chelsea, Higuain winning the ball on the edge of the box and bundling a pass to Loftus-Cheek. He's ganting on a shot but Gunnarsson does enough to cramp him, and then when it breaks to Hazard, he opts to beat his man instead of hitting it and is crowded out.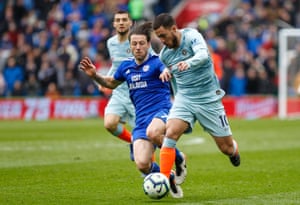 64 min Loftus-Cheek replaces Jorginho. It is, of course, inconceivable that a formation change might help Chelsea because Sarri's 4-3-3 in infallible and whenever things don't work, it's the players' faults.
64 min Kovacic finds himself some space outside the box and wafts a shot over the bar.
62 min Camarasa drives a corner into the middle – that's a nice little ploy – and a crowded Kepa comes and misses, but someone, I didn't see who, gets in Morrison's way.
62 min Jose Mourinho needs a job.
60 min Azpilicueta pulls back Niasse and is booked.
60 min Ruben Loftus-Cheek is warming up vigorously.
59 min Niasse finds Gunnarsson down the left but he doesn't trust his pace so checks. Eventually the ball ends up with Hoilett, and he sends a curler wide – I'm not sure Hilda Ogden would appreciate such wastefulness.
58 min Hazard drops back to halfway to get the ball – perhaps he's not so sure his mates will get it to him otherwise. But Chelsea have looked a little livelier since bringing on their best player – makes you think, really.
56 min Apparently the Chelsea fans are singing "Fuck Sarriball". Strange, I thought they didn't like it and now they want to make love to it. Football fans are so fickle.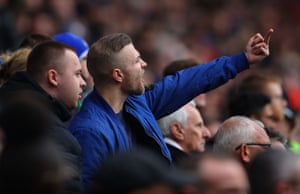 54 min Rudiger pulls Morrison's arm in the box and again a penalty isn't given. Chelsea then break and Arter boots Hazard; he's booked. Free-kick Chelsea, 25 yards out, but well left. Willian's free-kick is blocked.
53 min Can someone please confirm that Eden Hazard's nickname is Kishon?
53 min On comes Eden Hazard; off goes Pedro.
52 min A football match appears to have broken out. Niasse drives at the Chelsea defence, beating Azpilicueta before heading for the traffic as if on purpose.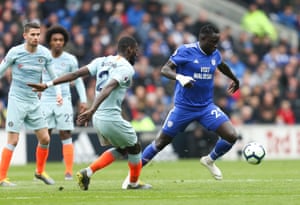 51 min Pedro lifts a ball over to Willian but it's slightly behind him, so that when he's set, Peltier is there to block.