79 mins: Gabriel is down after bashing knees with Mkhitaryan. Hopefully it's just an impact injury, but his knee did bend in a direction that knees ideally aren't supposed to bend. He limps off the field after his treatment, so he should probably be good to carry on.
78 mins: A potentially dangerous Valencia counter is cut off by some top notch defending by Torreira, swooping over from the middle to the left and dispossessing Gameiro.
76 mins: Kolasinac gets into the area from the left and sort of scoops it straight at Piccini from a few yards away. He claims handball, but that would have been harsh in the extreme.
75 mins: Parejo puts over a free-kick and Diakhaby finds himself in acres of space behind the defensive line, but there's a good reason for that: he's a yard offside. A change for Arsenal: Henrikh Mkhitaryan replaces Ozil, who has been OK this evening without being especially decisive.
73 mins: Gameiro is in straight away, catching Koscielny – who still looks in some distress – on his heels and nipping in behind the defence, but he tries a little clip over Cech which is saved by the goalie's legs.
72 mins: Away from this game, Bolton's takeover by Laurence Bassini is off, which leaves them…well, I'm not really sure where it leaves them.
70 mins: Double sub for Valencia: Kevin Gameiro replaces Guedes, while Soler comes off and Daniel Wass comes on. Meanwhile Parejo is booked for accidentally catching Lacazette on the side of the head with his arm. Seemed a touch harsh.
69 mins: Corner for Valencia, which is put right in the mixer. Diakhaby goes up with Cech, and doesn't quite head the ball but does enough to put the keeper off, who palms it down and Mustafi has to hook clear.
67 mins: Two more chances for Lacazette! Golden ones! Big, shiny golden ones! The ball breaks to him in space, about eight yards out to the left, he tries to force it home at the near post but Neto saves with his legs, and then the rebound is smothered too. Arsenal should now really be way ahead.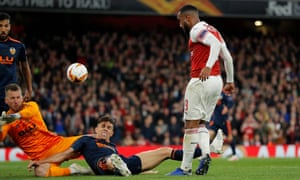 65 mins: Gabriel produces some of the old Gabriel magic we remember from his time at Arsenal, as he hoofs Lacazette up in the air from behind. Mystifyingly, he's not booked.
63 mins: Oh! What a chance! Brilliant stuff by Aubameyang on the left side of the area, as he chips a ball into the middle, perfectly for Lacazette on the edge of the six yard box, but he completely misjudges the header and gets nothing on it. Maybe he thought the defender was going to get there first.
62 mins: Xhaka, whose deliveries have been really good tonight, curls one into the area and Aubameyang winds up for a volley, but Gabriel gets some part of his body in the way and stops the shot before it begins.
61 mins: Arsenal aren't quite at it in the second half so far. Which is probably why Torreira is on.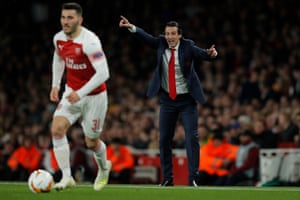 58 mins: And there goes Guendouzi, replaced by Torreira.
57 mins: Guendouzi is about to be taken off apparently, but he tries to go out with a bang by curling a shot from the edge of the box into the top corner, but only succeeds in curling it into the chest of a defender.
55 mins: Brilliant defending from Koscielny, even better when you consider he's limping quite heavily. Guedes plays the ball over the top and down the left for Rodrigo, and the former Bolton favourite is on his own but does well to hold it up until help arrives. That help is in fact Guedes again, sprinting into the box and goes for a diving header, but Koscielny is there just in front of him. Saved an almost certain goal, that.
54 mins: Parejo skims a nice ball over the top and down the right for Guedes to chase, and he's shoved out of the way by Sokratis. Apparently not worthy of a free-kick though, which is pretty weird.
52 mins: Maitland-Niles and Guendouzi exchange passes, with the latter cutting back to the edge of the box but it's cleared by Roncaglia.
49 mins: Rodrigo dinks his way past Sokratis, who lunged in rather too quickly, but his cross is cleared by Mustafi. After a corner, the ball breaks out to Soler who hits an absolute rasper of a first-time shot, but it's blocked by Sokratis.
48 mins: To repeat a point made earlier, Arsenal could probably do with another couple of goals here: a bit of a cushion would be very handy given how diabolical they are on the road.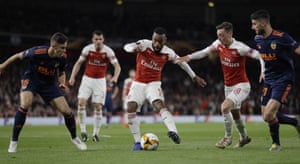 46 mins: We're away. No substitutions from either side as yet.
The players are back out for the second-half. More of the same please.
Charles Antaki has a reference for the kids, here: "The Arsenal back four are servings up a fantastic treat of something that quite closely resembles football, with Shkodran Mustafi in customary starring role. Les Dawson used to have a skit in which he pretended to play the piano, but, after a bit of clumsy clonking, then revealed that he could actually play, and produced a lovely tune. That latter bit is perhaps yet to come in Arsenal's case."
There you go, then. Valencia were terrific for the first 15 minutes and should have been further than 1-0 ahead, but then Arsenal scored a couple of quickish goals and were in complete control by the end of the half. A very good game, mind.
45 mins: One minute of added time. Guedes goes down after clashing knees with Sokratis, but limps away without needing treatment.
44 mins: Kolasinac is getting plenty of the ball down that left flank. Again he has it and cuts back into the area, but Diakhaby is there to clear.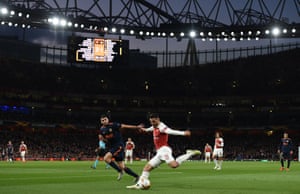 42 mins: Aubameyang makes tracks cutting in from the left, then tucks it down the line for Kolasinac who makes a good run, but his cross is far too strong and drifts away.
39 mins: Lacazette decides that if Arsenal's defenders aren't going to defend, he'll do it, as he charges back to tackle Soler just as he lines up a shot from range.
37 mins: "Valencia's defence is so bad they'd take Mustafi back," quips Matthew Stephens.
36 mins: …Parejo lines up a shot from the free-kick, but let's just say he's not Leo Messi.
35 mins: Mustafi clumsily (no, really) takes out Parejo and Valencia have a free-kick about 30 yards out, to the left of centre…
33 mins: More terrible defending by Valencia as they stand off Xhaka for so long that he has plenty of time to pick out Aubameyang at the far post, who is rather obligingly completely unmarked, but he thumps his volley into the turf and it bounces over the bar.
32 mins: "Not sure if we're watching the same game," offers Filip Zec. "We know Arsenal's defense lacks, hm, cohesion, but they've created chances. Valencia, on the other hand, have created nothing on their own and can thank Arsenal for their lone goal."
Opinions, Saint, opinions.
31 mins: Diakhaby sticks his boot into Lacazette's stomach, which you're not allowed to do, and is thus booked.