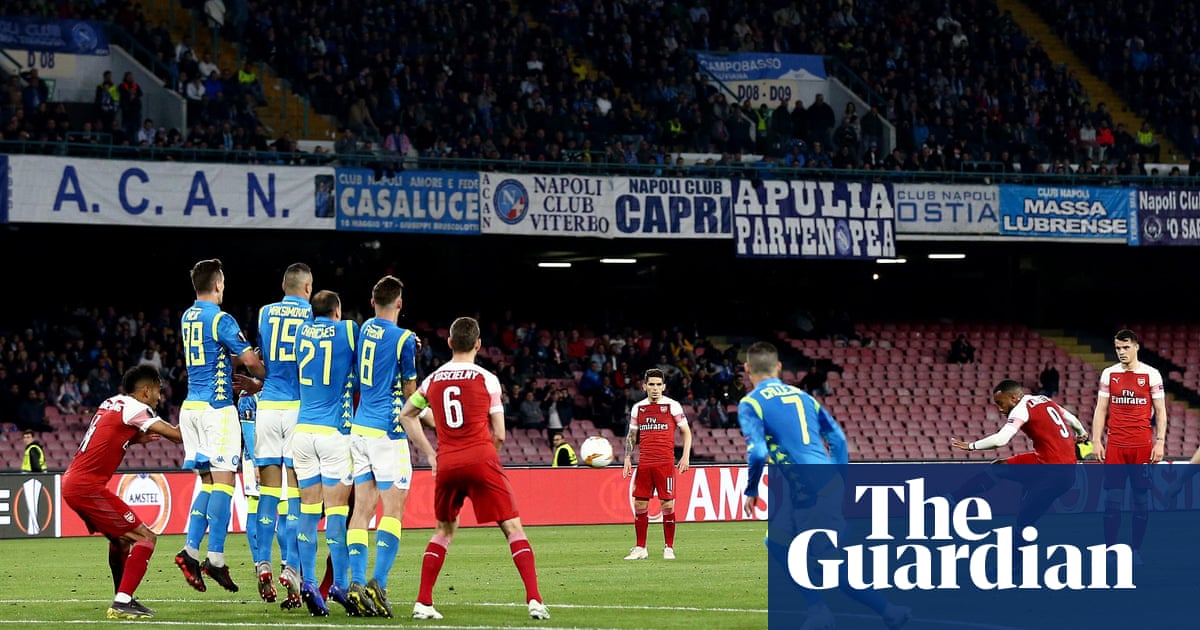 For all the moments this season when critics have scratched their heads over the identity of Unai Emery's Arsenal, a masterclass of a European quarter-final showcased everything they are capable of. This was a responsible, smart performance from back to front that eased them into the semi-finals of the Europa League.
They did so by ticking every box required for a tough overseas assignment: the team maintained composure, Alexandre Lacazette scored a sumptuous away goal, the home crowd lost their voice, the Napoli team lost their will. Arsenal picked an excellent moment to conjure up a classic away performance, reprising the old George Graham favourite, 1-0 to the Arsenal. Perhaps Napoli should have chosen a different walk on song than Pet Shop Boys' Go West, the symbol of that era and that result.
It sounded peculiar in the buildup to hear Carlo Ancelotti, he of the three Champions League titles, sweetly praise his counterpart for his mastery of the Europa League. Emery's fondness for the competition is obvious. "I grew up a lot in this competition," he said and his desire to add a fourth title to the three he won with Sevilla is getting serious. "The Europa League gives us a big opportunity to do something important. It's a title and gives us the possibility to play in the Champions League."
Whatever the secret to his Europa League touch, it is clear Emery has given Arsenal the confidence and organisation to feel they have as much a chance as anyone of reaching the final in Baku. The next team in their way is Valencia, Emery's old club.
The quest for silverware, and for a route back into the Champions League either through this competition or a top-four finish in the Premier League, remains alive and enticing. This kind of effort should boost their belief in their remaining away matches and serve as a template for what can be achieved.
Emery described his players as heroes for the way they handled the occasion with a level assurance a reckless Napoli lacked. "I am very proud," he said. "We showed the players have the habit to play matches against good teams in a good atmosphere, and show big personality."
Emery had called for his team to play with courage and in this bear pit of a stadium, which reflects the raucous and anarchic soul of its city, plenty of character was on show across the team. Petr Cech was unruffled. The captain Laurent Koscielny launched himself at challenge after challenge. Granit Xhaka was disciplined and careful. The platform was set.
With a 2-0 first-leg advantage behind them, Emery sent out a side intent on winning, and his team selection reflected his desire to take the initiative wherever possible. If he could have written a script for the first half it would have looked very similar to the story that played out – with the exception of the injury to Aaron Ramsey, who withdrew half an hour in clutching a tweaked hamstring. Other than that he saw his team demonstrate a mix of defensive diligence and calm, concentrated heads to largely frustrate Napoli, before Lacazette seized the away goal that relaxed them and deflated Napoli.
Before that, they had to withstand a period of pressure midway through the first half as Napoli created two inviting chances. José Callejón's angled shot was smothered well by Cech. It proved a key moment – preserving an advantage when the pressure was on felt paramount. Napoli then squandered another inviting opportunity as Arkadiusz Milik was in the clear for an aerial attempt, unmarked and free to pick his spot. He got his angles wrong and guided the ball wide.
It was telling of the collective focus Arsenal were feeling that when Henrikh Mkhitaryan replaced Ramsey a player who was notably off-key recently swiftly rediscovered his range. He immediately helped to knit together a productive Arsenal attack. When Lacazette was chopped down outside the box by Nikola Maksimovic, the Frenchman was focused to take full advantage. His free-kick from 25 yards was whipped in with a wicked curl. Arsenal had a vital away goal, and they reacted with joy.
Ancelotti tried to shake things up at half-time, bringing on a goal threat in Dries Mertens with his team now needing four of them to rescue their rapidly fading hopes. Arsenal could have ended the chase altogether if a dazzling chance three minutes after the break had led to a goal. Mkhitaryan slid a pass across to Pierre-Emerick Aubameyang, whose shot was turned over spectacularly by Alex Meret.
Napoli huffed and puffed trying to salvage some pride but their end product was wayward and caught up in their frustration. Missed opportunity after missed opportunity was greeted with disbelief in the crowd. It felt oddly like Arsenal were controlled enough to allow Napoli chances without worrying that there was major damage in store.
The old scoreline was relished at the end of it all, and Arsenal now have to regroup quickly before turning their attention to the flurry of games in front of them.